Home
SESELJ'S VOLUNTEERS GOT WEAPONS FROM THREE SOURCES
According to prosecution military expert, SRS volunteers got their weapons and military equipment from three sources: from the JNA and later VJ, from the Serbian Interior Ministry and from the Serbian Defense Ministry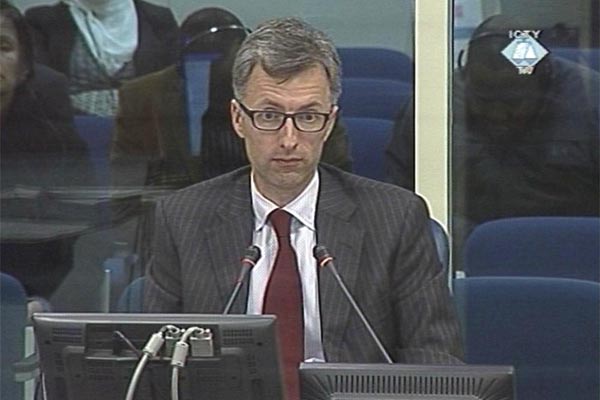 Reynaud Theunens, witness in the Seselj trial
The report and testimony of Reynaud Theunens, prosecution military expert, are based on numerous documents from various sources: former JNA and later the VJ, Serbian Interior Ministry and Defense Ministry, the VRS, Territorial Defense in Eastern and Western Slavonia, the Serbian Radical Party itself and in particular its War Staff, active in the period relevant for the indictment. Theunens is testifying about the role of Vojislav Seselj and the Serbian Radical Party in the recruitment of the volunteers and their transfer to the frontlines in Croatia and BH from 1991 to 1993. When the prosecutor said that some of the documents presented today originated from the 'SRS archives', Seselj accused him of having obtained the material 'illegally'. The prosecution 'surely couldn't have gotten them from the SRS archives', he said.
The accused objected repeatedly as the prosecution tendered into evidence documents referring mostly to the powers of the SRS War Staff. The documents are mostly orders for the deployment of volunteers, appointment of commanders in some units, requests for the delivery of weapons and equipment and requests for compensation for volunteers or families of fallen members of the SRS units.
In his evidence today, Theunens said the SRS volunteers received their weapons and military equipment from three sources: from the JNA and later VJ, from the Serbian Interior Ministry and the Serbian Defense Ministry. The volunteers were paid by the JNA on the basis of the certificates issued by the SRS War Staff. This allegation was corroborated by a document summoning the volunteers fighting in 1991 in Western Slavonia to come to 4. juli, the JNA barracks in Belgrade and get their pay. Letters sent by the SRS War Staff to the Ministry for Relations with Serbs outside Serbia requesting financial assistance for the families of volunteers killed in Vukovar were also tendered into evidence. Interestingly, the local Territorial Defense in Western Slavonia wrote to the same Ministry asking the SRS War Staff to send volunteers to their area.
At the beginning of the hearing today, Vojislav Seselj told the Trial Chamber there was a 'new terrible problem'. The problem was discussed in closed session for 45 minutes.