Home
REVIEW HEARING IN SLJIVANCANIN CASE SCHEDULED FOR 12 OCTOBER
The Appeals Chamber has scheduled a hearing on the review of Sljivancanin's judgment for 12 October 2010. Sljivancanin was sentenced to 17 years in prison for aiding and abetting the murder of prisoners in Ovcara. The Appeals Chamber will hear the evidence of Reynaud Theunens, prosecution military expert, and then the two parties will have 30 minutes for their closing arguments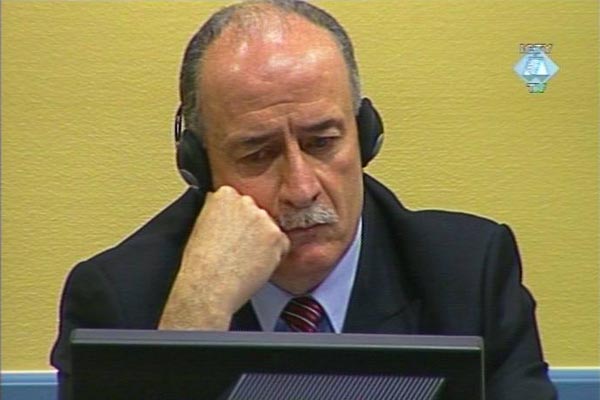 Veselin Sljivancanin in the courtroom
The hearing on the review of the appellate judgment of Veselin Sljivancanin, former chief of security in the JNA Guards Brigade, has been scheduled for Tuesday, 12 October 2010. The Appeals Chamber found Sljivancanin guilty of aiding and abetting the murder of about 200 prisoners at the Ovcara farm near Vukovar on 20 November 1991, and sentenced him to 17 years.
The Appeals Chamber thus revised the Trial Chamber's judgment sentencing Sljivancanin to five years for aiding and abetting the torture of prisoners in Ovcara. The appellate judgment was based on the judges' conclusion that the Guards Brigade commander Mile Mrksic 'had to have told Sljivancanin' that he had withdrawn the military police from the hangar in Ovcara, leaving the prisoners there without any protection. The defense filed an application for review, arguing that the Appeals Chamber had in effect delivered 'a new first-instance judgment' and that Sljivancanin should have the right to appeal it.
A judgment can be reviewed only if there exists a 'new fact' that was not known to the Appeals Chamber when the appellate judgment was delivered. In the judges' view, this new fact is contained in the evidence of Milan Panic, former chief of staff in the Guards Brigade. At a hearing in June 2010, Panic claimed that on 20 November 1991 he 'was in a position to follow a conversation' in Negoslavci at the Guards Brigade command post, but he 'didn't hear' Mrksic tell Sljivancanin that the military police had been withdrawn.
In line with the Appeals Chamber's order, the prosecution sought leave to examine only one witness at the review hearing on 12 October 2010, military expert Reynaud Theunens. The prosecution contends he will be able to contest the 'plausibility' of Miodrag Panic's evidence. The prosecution has also asked to tender into evidence documents that, in its submission, challenge Panic's credibility.
In its decision and scheduling order, the Appeals Chamber rejected the defense's request to admit into evidence the testimony of three witnesses who claimed that Sljivancanin and Mrksic talked on 20 November 1991 in Negoslavci, but that they didn't know what the two talked about. The Appeals Chamber ruled that their testimony were 'not necessary'.
Theunens will be examined for 2 hours and 15 minutes. The two parties will then have 30 minutes to deliver their closing arguments.