Home
LACK OF COOPERATION IN BELGRADE WILL EXTEND TRIBUNAL'S LIFE
After talks with Tribunal officials, US Ambassador-at-Large for War Crimes Issues, Pierre Richard Prosper, announces that Washington will be reviewing its policy regarding the referral of ICTY cases to the Serbian courts and the "completion strategy" for the Tribunal, which is expected to finish all its first-instance proceedings by the end of 2008.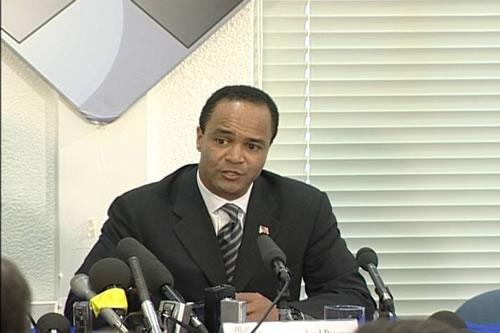 Pierre Richard Prosper, US special ambassador for war crimes
By refusing to cooperate, Belgrade extends the Tribunal's life and calls into question Washington's continued support for the idea that some ICTY cases should be prosecuted in Serbia. US Ambassador-at-Large for War Crimes Issues, Pierre Richard Prosper, stated this today after talks with ICTY President Theodor Meron and Chief Prosecutor Carla del Ponte.
According to Ambassador Prosper, the question is no longer whether Belgrade is able to try war crimes cases, but whether it is at all "willing to do so." Prosper notes that since there is obviously no will to cooperate with the Tribunal, the question now is whether there is a will to even prosecute in domestic courts people accused of war crimes. He adds that in order for the Tribunal to refer its cases, Belgrade must first cooperate and comply with orders from The Hague—first and foremost, the arrest of Mladic and other senior people.
Prosper does not want to call 1 October a deadline for Belgrade to present proof of its cooperation with the Tribunal. As he says, the deadline is "long past" and the world is losing patience with Belgrade. This, Prosper explains, means that Washington will have to take a look at two things: first, whether it will continue to support the idea of domestic trials; and second, whether it will be necessary to extend the Tribunal's life until senior accused people go to The Hague and face justice.
In the past two years, Washington has said several times that if Belgrade surrenders Ratko Mladic, it will support the idea that most other Tribunal cases should be referred to domestic courts. The announcement Prosper made today about Washington needing to "take a look" at its policy may be interpreted as an admission that this policy has not yielded the desired results.