Home
PROSPER: "GENERALS MUST GO TO THE HAGUE!"
American ambassador-at-large for war crimes issues Pierre Richard Prosper indicates that the Tribunal may continue its work after the 2008 deadline. After Del Ponte submitted "one of the worst reports so far" about the cooperation of the Belgrade authorities with The Hague to the Security Council, Washington has withdrawn its support for the trials in Belgrade and now insists that the "generals must go to The Hague"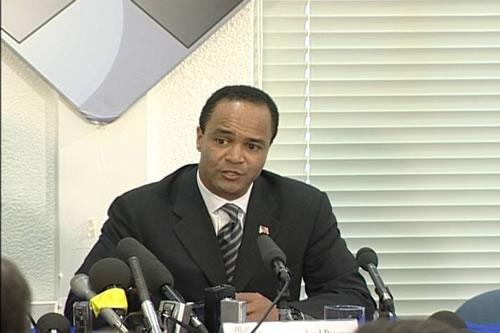 Pierre Richard Prosper, US special ambassador for war crimes
The deadline for the completion of all first-instance proceedings at the International Criminal Tribunal for the former Yugoslavia could be extended beyond the end of 2008, US ambassador-at-large for war crimes Pierre Richard Prosper stated after his visit to the Tribunal today. He met the Deputy Prosecutor David Tolbert.
In a brief conversation with the journalists Prosper mentioned the lack of cooperation, primarily on the part of Serbia and Montenegro (SM), as the main reason for the fact that this option is being considered. "The report on the cooperation of the Belgrade authorities with the Tribunal we have received is one of the worst since the establishment of the Tribunal," Prosper said. He said that there was "zero cooperation" and that the "Prime Minister Kostunica bears the responsibility for this. He is making the situation more difficult for the Serbian people because he is not asking his services to go and arrest fugitives."
"If the Prime Minister wants the Tribunal to no longer be an issue," Prosper stated, "he should cooperate and send the fugitives to the Hague. It's that simple."
Because this lack of cooperation "we can no longer support domestic trials", Prosper said. "The generals now need to go to The Hague," he said, adding that not only the most wanted fugitives but even the lower ranking accused will now have to be tried in The Hague. He said that the US administration no longer had confidence in Serbia fulfilling its obligations because of the lack of cooperation.
The American ambassador said that he had discussed this issue with the Chief Prosecutor during the weekend in New York. "We could solve this very easily," Prosper said, "if the PM would fulfill his responsibilities and cooperate.» If this does not happen, if the Belgrade authorities "persist with their lack of cooperation", the US will have to look to see what solutions are required to achieve the necessary level of cooperation, the US ambassador-at-large for war crimes said.