Home
'THE VUKOVAR THREE" REMAIN IN THE HAGUE
The referral bench decides that the Vukovar Three case "is not an obvious case for referral" to national courts in Croatia or SCS and grants Carla del Ponte's request. The judges support the decision by noting the high rank of the accused, seriousness of the crime and feelings the Vukovar case generates in the region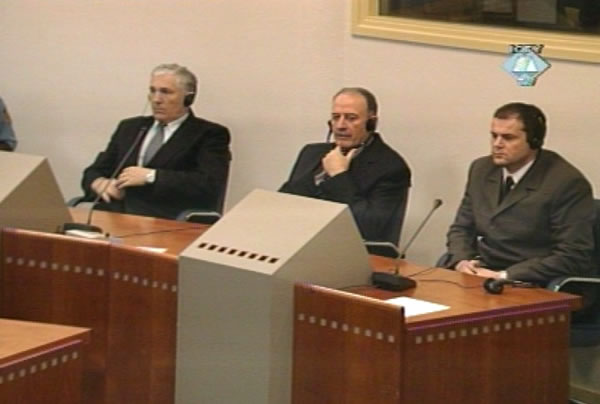 "Vukovar three" in the courtroom
The trial for the crimes committed in Vukovar will not be held before the national courts but in The Hague, a special Referral bench decided. In early June, Chief Prosecutor Carla del Ponte requested leave to withdraw her previous application for the case of the Vukovar Three to be referred to either Croatia or Serbia and Montenegro, and in their decision today the judges of the Referral bench granted her application to withdraw.
The defense of the accused Mile Mrksic, Veselin Sljivancanin and Miroslav Radic opposed the new prosecution application and asked that the trial be held in Belgrade, with the SCG government joining in. The Referral bench nevertheless decided that the arguments proffered by the Chief Prosecutor were acceptable, despite their brevity, and concluded that the Vukovar case was "not an obvious case for referral" to national courts.
"The Referral bench was well advanced in its consideration of the merits of the request for referral when the prosecution on 9 June sought withdraw it," and the judges were "therefore in a position to observe" that the arguments in favor and against the referral were "quite evenly balanced", it is stated in the decision. The seniority of the accused former JNA officers and the seriousness of their alleged conduct, as the judges note, called for a "difficult" decision on whether to refer the case or not. This was further aggravated by the dilemma as to whether to refer the case to Croatia or to Serbia and Montenegro.
The decision stresses in particular the fact that this case, which deals with the execution of at least 264 persons taken from the Vukovar Hospital in November 1991, has generated "intense feelings" – as evidenced by strenuous protests the accused made against a trial in Croatia on the one hand, and the opposition among the victims and witnesses to a trial in SCG. This "brings into sharp focus the question whether, even today, a trial held in either country would be generally accepted as reflecting the fair administration of justice," the Chamber noted.