Home
PROSECUTION REDUCES ITS CASE AGAINST THE VUKOVAR THREE
At the last pre-trial conference, prosecutor Marks Moore announced that the prosecution would try to complete the presentation of its evidence against Mrksic, Radic and Sljivancanin by the end of January 2006. Dr. Vesna Bosanac will be called as the first prosecution witness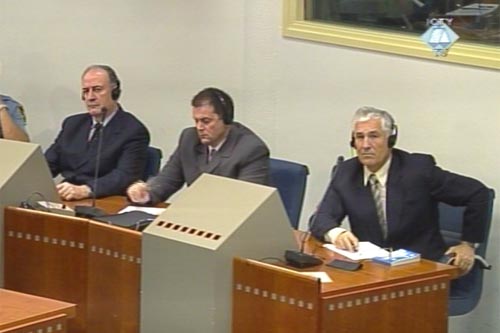 "Vukovar three" in the courtroom
The prosecution will try to complete the presentation of its evidence against the Vukovar Three by the end of January 2006, trial attorney Marks Moore announced on the eve of the trial for the massacre in Ovcara near Vukovar. The prosecution witness list currently has more than eighty names, but the prosecution intends to reduce the number and to rest within three to four months.
Australian judge Kevin Parker termed this indication by the prosecutor "more ambitious that he expected", in light of the fact that according to previous estimates the prosecution case was to take about six month. Parker is the presiding judge of the chamber hearing the case against the former JNA officers Mile Mrksic, Veselin Sljivancanin and Miroslav Radic.
At the last pre-trial conference before the trial begins tomorrow, prosecutor Moore announced that he would open the case with the witnesses testifying about the "base of crimes", the incidents that happened in November 1991 in the Vukovar hospital, the Velepromet and at the Ovcara farm. The prosecution will call as its first witness Dr. Vesna Bosanac, former head of the Vukovar General Hospital in Vukovar. She is expected to take the stand on 25 October. She already testified at the trials of Slavko Dokmanovic and Slobodan Milosevic.
After the testimony of survivors and eyewitness of the Vukovar crimes, mid-November will see the testimony of Ambassador Okun, General Pringle and other international figures who were in Vukovar in November 1991 in various capacities and who had contacts with some of the accused, primarily with the commander of the 1st Guards Brigade, Colonel Mile Mrksic.
The Chamber hearing the case comprises Judge Parker, Judge Krister Thelin and Christine Van Den Wyngaert. The defense teams are led by Miroslav Vasic (representing Mrksic), Borivoje Borovic (representing Radic) and Novak Lukic (representing Sljivancanin).
Prosecutor Moore will deliver his opening statement tomorrow at 10 a.m., while the defense counsel will present their at the beginning of the defense case.