Home
SESELJ APPEALS THE DECISION NOT TO GRANT HIM $ 6, 3 MILLION FOR HIS DEFENSE COSTS
The ICTY President has barely dismissed Seselj's motion for the disqualification of judges Orie and Hopfel, and now he has a new appeal filed by Seselj in front of him. The accused has appealed the Registrar's decision not to consider "expenses list" of his "expert team", amounting to $ 6, 3 million to cover the costs of legal services provided to the accused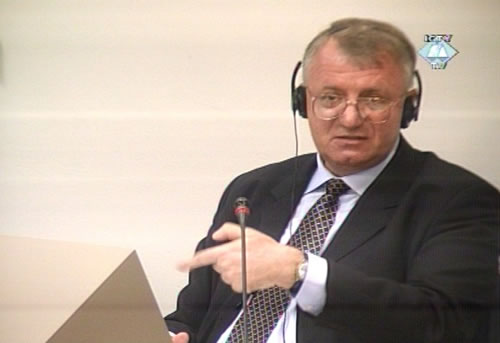 Vojislav Seselj in the courtroom
ICTY President Fausto Pocar rejected today Vojislav Seselj's motion seeking the disqualification of judges Orie and Hopfel. The judges sit on the Trial Chamber slated to try Seselj's case. In the meantime, this Chamber has been assigned to take on the Haradinaj, Balaj and Brahimaj case, which means that Seselj's trial could not start before October or November 2007. The trial of three former KLA commanders is expected to end by then.
In his decision dismissing Seselj's appeal, the ICTY President concluded that the accused failed to identify a single example of the alleged partiality of judges Orie and Hopfel, presenting only "numerous ill-founded claims" that clearly show that he "does not like the way the Trial Chamber has been conducting the proceedings in order to give him an expeditious and fair trial with the full protection of his rights". The ICTY President thinks this does not constitute grounds for the disqualification of a judge.
The ICTY President has barely dismissed one motion filed by Seselj, and now he has a new appeal filed by Seselj in front of him. The accused has appealed the Registrar's decision not to consider the "expenses list" of his "expert team" for 2003, 2004 and 2005. The appeal drafted by Zoran Krasic, a member of Seselj's "expert team" does not specify the amount, but SENSE has recently learned and reported that the team providing legal services to the accused seeks $ 6,3 million for the services rendered from February 2003 to the end of 2006.
Seselj went on a four-week hunger strike and thus forced the Registrar to agree to cover "certain reasonable defense expenses". The "expenses list" submitted to the Registrar could hardly be considered as "reasonable expenses" and the Registrar refused to consider it, issuing a decision on 28 December 2006 to inform Seselj that the defense costs in the pre-trial stage could not exceed € 382,897 provided that the accused is able to prove he is "indigent" and that his case is "of the highest degree of complexity". Also, the legal grounds for the allocation of the funds to an accused representing himself also have to exist.
Seselj believes that this violates "the principle of equality of arms" of the defense and the prosecution, demanding that the ICTY President reverse the Registrar's decision, and order him to take into consideration the "expenses list" of his expert team and to approve the allocation of UN funds to cover the costs of his self-representation before the Tribunal.