Home
'ARKAN'S MEN' KILLED PEOPLE, 'SESELJ'S MEN' DEPORTED THEM
Protected witness describes how her husband and her two sons were killed in Zvornik by 'Arkan's soldiers'. 'Seselj's men' took her out of her shelter and prohibited her from watching the execution. She was later deported to Serbia with other women and children. Once again, Seselj is not contesting the fact that crimes were committed, but denies the involvement of 'Seselj's men'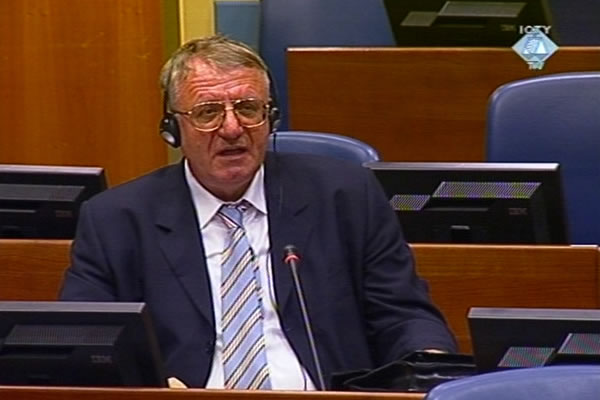 Vojislav Seselj in the courtroom
A Bosnian Muslim woman from Zvornik testified today at the trial of Vojislav Seselj under the pseudonym VS-014 with image and voice distortion as protective measures. She recounted how she lost her husband and two sons. They were killed, she said, as civilians, in front of the door of the building where they lived before the war.
In early April 1992, the witness and her family were hiding in the shelter of the building where they lived. On 9 April, masked soldiers in black uniforms broke into the basement and took out all the men – twelve of them. Soldiers in camouflage uniforms who came into the basement after them spoke to the women and children, saying 'We're 'Seselj's men', we came here to rescue you, the men who took out your menfolk are 'Arkan's soldiers', and they kill people'.
As they were being led out by 'Seselj's men', the witness tried to turn around, wanting to see what was happening to her husband and sons who were among the men. A volunteer prohibited her from doing this, threatening her with his weapon. All she managed to see was men lined up along a wall. A few seconds later she heard shots.
'Seselj's men' took the witness with other women and children to a nearby library. As she recounted, they were put on buses, on the orders of Zeljko Raznatovic Arkan, and later deported to Serbia. With the help from her Serb friend, she managed to get back home a few days later. She saw that the wall of the building where she lived was riddled with bullets. There was blood and bullet casings on the concrete. That was where she found her husband's cap and a tennis shoe worn by one of her sons.
In his brief cross-examination, Seselj said that there is no mention of Seselj's men in the statement the witness gave to the BH Federation intelligence service in 2003. The witness denied having signed this statement, although, as the presiding judge noted, the signature was identical to the one on her statement to the OTP. The witness remained adamant that she had given no statements to the authorities in Sarajevo. She was interviewed only by the OTP in The Hague; as she said, she's been 'repeating the same story since 1996'.
The trial of Vojislav Seselj continues next Tuesday with the evidence of another prosecution witness.