Home
SESELJ CHARGED WITH CONTEMPT OF COURT
Serbian Radical Party leader Vojislav Seselj is charged with contempt of court for revealing the identity of three protected witnesses and their evidence in a book he published. The ICTY Registrar is ordered to appoint amicus curiae prosecutor. The date when Seselj is to enter his plea on the new charges will be determined later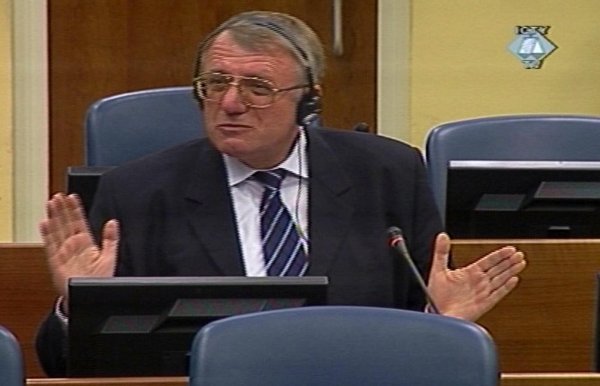 Vojislav Seselj in the courtroom
In addition to crimes against humanity and violations of laws and customs of war, the Serbian Radical Party leader Vojislav Seselj now faces charges of contempt of court because he revealed the identity of three protected witnesses and published parts of their evidence.
The 'order in lieu of an indictment' alleges that Seselj revealed the information in a book published after the Trial Chamber had already granted measures to protect the identity, appearance and voice of those witnesses and placed their written statements under seal. The order was signed by Judge Agius and made public today.
The ICTY Registrar was ordered to appoint an
amicus curiae
prosecutor to conduct the proceedings on this indictment and to establish which parts of Seselj's book had to be redacted to protect the witnesses' identity. The decision of the Trial Chamber and the 'order in lieu of an indictment' do not mention the title of the book. It is simply referred to as 'the book'.
As the Trial Chamber's decision indicates, the prosecution filed its motion to institute proceedings on 10 October 2008 to the same Trial Chamber that is trying Seselj for war crimes in Croatia, Vojvodina and BH. The presiding judge is Antonetti. The ICTY president then forwarded the motion to Trial Chamber II, with judges Agius, Kwon and Parker. Having studied the supporting material, Trial Chamber II ruled there was a prima face case against Vojislav Seselj, showing that as the author of the 'book' he had violated the Trial Chamber's orders on the protection of the identity and evidence of witnesses. The Chamber therefore decided to institute contempt of court proceedings against Seselj.
Vojislav Seselj will be brought before the Trial Chamber to enter his plea on the new charges; the date will be determined later.