Home
SESELJ WANTS TO SUBPOENA CARLA DEL PONTE
The witness complied with the subpoena and arrived in The Hague but refused to give evidence. A hearing on whether the accused should respond to the evidence called by the prosecution will be held in late May. Seselj wants to subpoena former chief prosecutor and her deputy to give evidence about their purported meetings with Tomislav Nikolic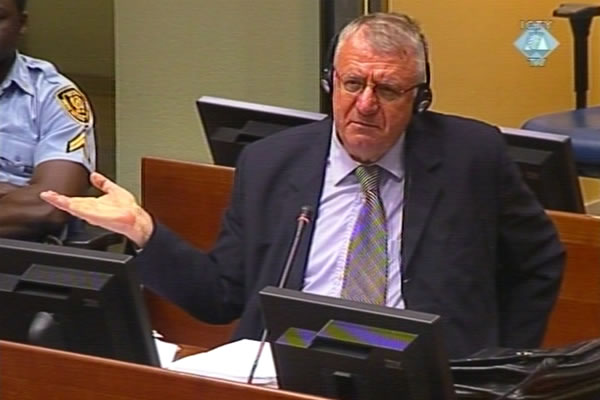 Vojislav Seselj in the courtroom
The trial of the Serbian Radical Party leader Vojislav Seselj went in closed session at the beginning of the hearing today. An hour and a half later, the court went into open session to discuss administrative issues, instead of the examination of a Trial Chamber's witness. Thanks to the accused, the public learned that the witness appeared in the courtroom but refused to give evidence. Seselj was 'sad' because he had planned to ask the witness about some documents the witness had purportedly stolen from the Serbian Radical Party War Staff. In Seselj's opinion, the documents came from 'the trash'.
The presiding judge said today that two of the three remaining witnesses who had been subpoenaed to testify, submitted medical certificates proving they couldn't testify. The third and the last witness of the Trial Chamber 'may give evidence in early May 2010', the judge indicated. Two or three weeks after that, there will be a 98 Rule bis hearing. The rule allows the accused to argue that the prosecution has failed to prove the allegations in the indictment in its case; if the Chamber accepts the arguments, the trial ends.
The prosecutor today replied orally to the motion of the accused of 18 March 2010, in which Seselj asked for 'detailed information' on the purported conversations between Tomislav Nikolic and former chief prosecutor Carla Del Ponte and her deputy David Tolbert. Describing the requests as 'part of the maneuvers of the accused against his political opponents', prosecutor Marcussen categorically asserted that the prosecution 'has not conducted any interviews with Tomislav Nikolic'. Seselj nevertheless insisted that Nikolic first met with Tolbert in Budapest and then with Del Ponte in Brussels or Strasbourg. According to Seselj, he has proof that they had 'cordial talks' there.
Seselj indicated that after the opening statement he would be the first witness of his defense. Seselj asked the Trial Chamber to issue subpoenas to the former chief prosecutor and her deputy to give evidence about their conversations with Tomislav Nikolic. Seselj warned the judges to 'have in mind' that he would not proceed with other witnesses until the two are subpoenaed and can face him in court.
The leader of the Serbian Radicals is on trial for crimes against humanity perpetrated as part of the joint criminal enterprise in BH, Croatia and Vojvodina.