Home
DETENTION 'COMPATIBLE' WITH SESELJ'S HEALTH
A three member medical team set up on the orders of the Trial Chamber concluded that the medical facilities at the UN Detention Unit were 'compatible' with Vojislav Seselj's health condition. The health care available to the accused in the Detention Unit is no different from the medical care offered to any other patient with the heart condition outside the Detention Unit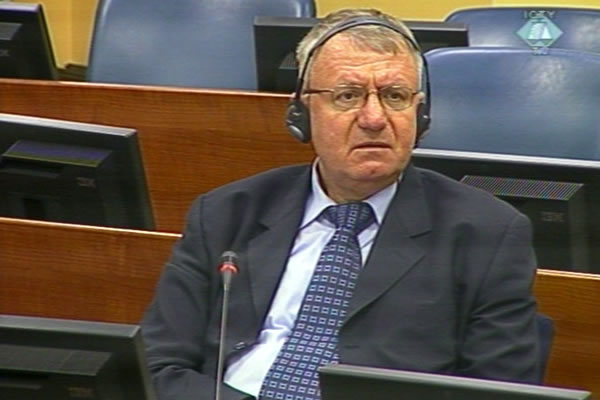 Vojislav Seselj in the courtroom
Acting on the Trial Chamber's orders, three medical doctors appointed by the Tribunal's Registrar have written a report on the compatibility of the medical facilities at the Detention Unit with Vojislav Seselj's health condition. The team comprised three internal medicine specialists: Thomas Kjellstrom from Sweden, Andre Mast from Belgium and Zdravko Mijailovic from Serbia.
The medical doctors visited the Detention Unit on 26 April 2012 but Seselj refused to see them and to be examined. Seselj also refused to authorize them to access his medical records, kept by Seselj's GP Alexander Kloek.
The report submitted by the medical team to the Registry last week was based on the medical analysis and interpretation of Seselj's health condition produced in February 2012 by four doctors from Serbia. The Serbian doctors concluded Seselj's health should be further "tested". In their view, "there is incompatibility between the detention conditions and the Accused's health". The Serbian doctors concluded that Seselj must be released.
The medical team appointed on the orders of the Trial Chamber considers the accused might be released on medical grounds in two situations: if he develops a terminal condition, which is not Seselj's case, and if his medical condition requires permanent specialised in-hospital care.
After the visit to the Detention Unit, the doctors established that nurses were present every day; primary care by a physician was available three times per week. During the night, Seselj can contact the detention unit personnel trained for emergency situations in which health of the accused is at risk. Seselj has a heart condition and he is checked every hour. Seselj also has an alarm button. If the accused agrees, the checks can be done more often. He could even be placed under watch round the clock, and video surveillance is also an option. The doctors also note that if Seselj needs to be hospitalized, an ambulance can reach Detention Unit within ten minutes if needed.
The medical team also concluded that the care Seselj had been receiving is "as efficient as, and function at the level of, what is offered to the general population outside the Detention Unit. If the accused refuses any medical care or procedure, he is responsible for any consequences, the physicians concluded. His refusal does not prejudice the quality of medical care available in the detention unit, which, in the doctors' opinion, is 'compatible with the health of the accused'.
Vojislav Seselj is currently in the Detention Unit awaiting his judgment on the indictment for crimes against humanity in Vojvodina, Croatia and Bosnia and Herzegovina. He is also waiting for his third contempt of court trial to begin; he was indicted after refusing to withdraw from his website books and documents in which he disclosed information on protected prosecution witnesses. Seselj has already been convicted twice of contempt of court for disclosing information about protected witnesses and was sentenced to 15 and 18 months in prison respectively.