Home
FINAL ARGUMENTS AT RATKO MLADIC'S TRIAL
Next Week at the Tribunal
From 5 to 15 December, the prosecution and defense will present their final arguments at the trial of the former VRS Main Staff commander, who faces charges of genocide, war crimes and crimes against humanity in the war in BH, from 1992 to 1995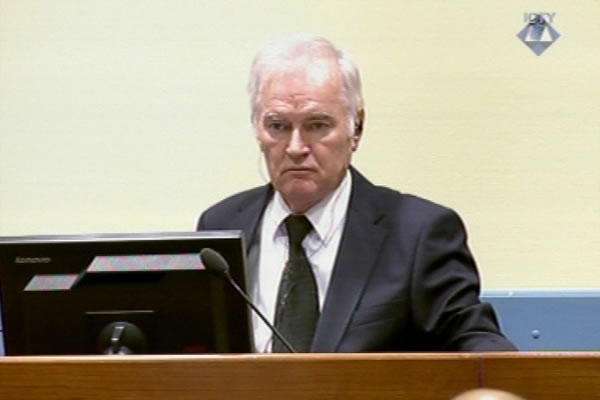 Ratko Mladic in the courtroom
On Monday, 5 December 2016, the parties will begin presenting their final arguments at the trial of Ratko Mladic. This is the last trial still ongoing before the International Criminal Tribunal for the former Yugoslavia.
The former Main Staff commander was arrested on 26 May 2011 after spending sixteen years on the run from international justice. According to the charges against him, he participated in four joint criminal enterprises in the war in Bosnia and Herzegovina between 1992 and 1995. The first joint criminal enterprise, characterized as overarching, comprised the ethnic cleansing of large swathes of Bosnia and Herzegovina, reaching the scale of genocide in several municipalities. The second was the artillery and sniper terror campaign in Sarajevo. The third was the series of incidents in which UN staff were taken hostage and used as human shields. The fourth comprised the killing and deportations of Srebrenica Muslims in July 1995, also qualified as genocide.
Ratko Mladic's trial started four and a half years ago, on 16 May 2012. The prosecution case lasted 20 months: the court heard the evidence of 169 witnesses, including survivors and eyewitnesses of the crimes Mladic has been charged with, forensic and other experts, military and civilians officials from various international organizations stationed in Bosnia and Herzegovina and several insiders, officers in the army under the command of the accused. More than 7,500 exhibits tendered by the prosecution were admitted into evidence. At the half-time of the trial, the Trial Chamber rejected the defense's motion for Mladic's acquittal; the judges found that the prosecution had presented enough evidence to lead to a conviction if unchallenged by the defense.
The defense case started on 14 May 2014 and ended 27 months later. In the course of Mladic's case, his lawyers called 208 witnesses and tendered more than 2,000 exhibits. Mladic's former subordinates, officers and rank and file soldiers, testified in his defense, as did former and current Bosnian Serb politicians. The defense also called several expert witnesses. Former peace negotiator Cutileiro and UN Secretary-General's special envoy Yasushi Akashi also testified.
The final arguments are scheduled to last seven working days. The prosecution will present their arguments first, on 5, 6 and 7 December. After a break, the defense will take the floor on 9, 12 and 13 December. On 15 December, the parties will get 90 minutes each to respond to the other party. Judges Orie, Moloto and Fluegge will then withdraw to deliberate. The judgment is expected to the delivered before the end of 2017.