Home
SENSE IN MOSTAR AND AHMIĆI
Within the goodwill mission of Croatian and Serbian human rights activists, who paid respect to the victims of the wars in Mostar and Ahmići, SENSE Transitional Justice Center presented its interactive narrative about the destruction of cultural, historical and religious monuments during the wars in former Yugoslavia.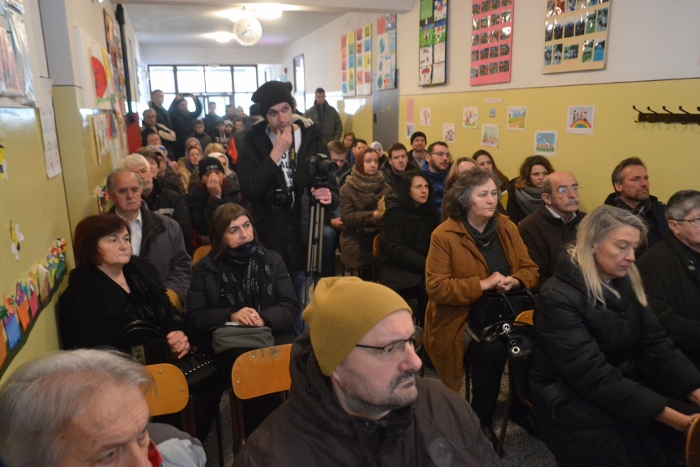 Ahmići 02 Presentation "Targeting History and Memory" Interactive narrative
Fascism lives – says the graffiti defacing the monument to its victims standing on Mostar's Bulevar, the street that divided the two warring sides during the Croat-Bosniak conflict. It's not an unusual sight: monuments to partisans and the victims of fascism in Mostar have long been targets of neo-Nazi and neo-Ustashi vandalism, from Nazi-inspired graffiti to major damage to Mostar's Partisan Cemetery, one of the most famous works of architect Bogdan Bogdanović, who is also the author of Stone Flower statue at the site of Jasenovac camp.
In that context last month, a group of some 20 human rights activists from Croatia, accompanied by Zagreb Homeland war veteran Veljko Vićević and anti-war activists from Serbia, paid their respects to the victims of Croatian Defense Council attacks in Mostar and Central Bosnia and to the victims of the BH Army in Herzegovina.
"In Croatia, the number of people who deny that crimes have been committed surpasses those who accept facts. Still, there are people who do remember. And that's why we are here ", said Vesna Teršelič, head of Documenta, a Zagreb-based center for dealing with the past, of their goodwill tour. She spoke at a public debate on the destruction of cultural and religious heritage in the 1990s organized in Mostar by the visiting activists from Croatia.
They included members of Croatian and Serbian human rights NGOs that jointly support the initiative to set up RECOM, a regional commission seeking to establish the facts about all war crimes committed in the 1990s in the former Yugoslavia. They came from Documenta, SENSE Center for Transitional Justice in Pula, HOMO from Pula, Delfin from Pakrac and the Croatian branch of the Youth Initiative for Human Rights. They were joined by individual activists from Croatia, by Staša Zajović, head of the Serbian anti-war organization Women in Black, and peace activists from Pančevo.
Upon their arrival in Mostar, the rights campaigners gathered on the Old Bridge and threw white roses in the Neretva river as a way of paying respects to Mostar's war victims. Vićević laid flowers at the memorial to Mostar writer Osman Đikić. "I have experienced the Calvary of war and I bow deeply to all victims ", Vićević told Novi list.
A public debate followed at Hotel Bristol concerning the destruction of cultural and religious heritage in the 1990s. Mirko Klarin, director of SENSE – Transitional Justice Center (TJC) in Pula, presented his organization's video narrative on heritage destruction. SENSE – TJC is the successor to the SENSE news agency, which produced the most comprehensive coverage of The Hague Tribunal. Its rich archives now serve as sources for the production of easy-to-use but thorough interactive narratives, or "web documentaries" which explain how particular war crimes have been investigated and prosecuted by the Tribunal.
SENSE has so far produced narratives about the Srebrenica genocide, Operation Storm, crimes in Kosovo and the destruction of cultural heritage. During his visit to Ahmići the following day, Klarin discussed the idea of creating a new narrative about the massacre committed in that Central-Bosnian village.
More than 100 Ahmići residents gave a cordial welcome to the visiting activists and journalists. On April 16, 1993, a Croatian Defense Council (HVO) unit called Jokeri committed "the gravest crime committed by the HVO in Bosnia-Herzegovina ", reads the writing next to the memorial at the entrance to Ahmići. In the attack, 116 Muslim civilians were killed, the youngest victims only three months old, the oldest 82 years old. The massacre had a code name "48 hours of ash and smoke ". Both of Ahmići's mosques were destroyed, along with its school, while 150 homes were set on fire and its infrastructure heavily damaged.
The visitors were welcomed with coffee and cakes at the school building. Mirko Klarin presented the narrative about cultural heritage destruction which includes photographs of the mined Ahmići mosque. "The Ahmići massacre was among the first crimes in the ex-Yugoslav wars that was documented almost simultaneously as it happened", Klarin told the more than 100 villagers gathered for the occasion. "It is not surprising that The Hague Tribunal was established only a month and a half after that massacre, on May 25, 1993, and that trials for the crimes in Ahmići were among the first to be held. "One of the goals of our visit is to find a way to make a lasting commemoration of that horrible crime, if possible this year, on its 25th anniversary".
Vesna Teršelič and Eugen Jakovčić from Documenta laid flowers at the memorial to the 116 victims. Bahtija Ahmić, president of Association 16 April, which brings together relatives of the killed, spoke with the visitors. "My mother, my brother and 36 members of my family were killed that day...", said Ahmić, who has served as a soldier since the war. "An American soldier spends six months in Afghanistan. Upon his return he is under the care of psychologists and then he commits suicide anyway. And here in Bosnia, what shall I tell you about us?! A colleague from work asked me once what happened to my family. When I told him, he replied in disbelief: 'How can you function normally?' I said: 'I don't know. I haven't started spitting on people yet. I function.' Man is a peculiar creature. He can endure more than a machine", concludes Bahtija.
Bahtija Ahmić emanates sadness, pain and suffering, determination, defiance and optimism, too – but not hatred. "I was wondering if it was possible to live here again. I could have had my uncles, cousins and aunts around, but now there's no one... But villagers have come back. I've come back too. I live in my grandmother's house. She was killed at the age of 72 together with my 52-year-old aunt. Living here is not easy. It hurts. But one has to live. As long as it hurts, one knows he's alive", said Bahtija Ahmić.
(Published with a permission of the author Boris Pavelić)
Photos