Home
APPEALS CHAMBER TO RENDER ITS JUDGMENT IN THE SREBRENICA GENOCIDE CASE ON 19 APRIL
The decision on the appeals lodged by the defense and the prosecution against the Trial Chamber's judgment finding General Radislav Krstic guilty of genocide and his 46-year prison sentence will set standards of proof for the most serious crime in the jurisdiction of the Tribunal.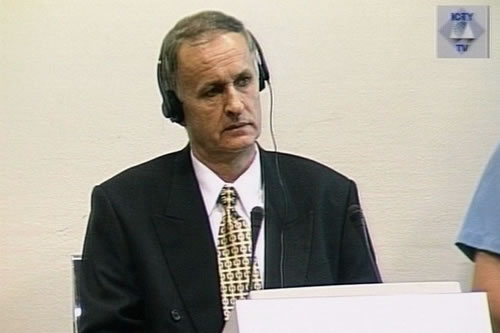 Radislav Krstic in the courtroom
The judgment of the Appeals Chamber of the International War Crimes Tribunal in the case of General Radislav Krstic will be rendered on Monday, 19 April 2004. The Trial Chamber found the former commander of the VRS Drina Corps guilty of genocide in Srebrenica and sentenced him to 46 years in prison.
Both the defense and the prosecution appealed the judgment and the appellate hearings were held late last November. While the defense did not challenge the serious crimes committed in Srebrenica in July 1995, it claimed that they cannot be qualified as genocide, i.e., as a crime committed with the intent to "destroy as such" an ethnic or religious group in whole or in part. Claiming that what happened in Srebrenica was not genocide but deportation, the defense sought to have the general's sentence commuted.
On the other hand, the prosecution demanded that General Krstic be found guilty not only of genocide, but of extermination, persecution, murders and other inhumane acts and that he be given a life sentence.
The judgment of the Appeals Chamber concerning the Tribunal's first genocide conviction is eagerly awaited because it will set the standard of proof for the most serious crime in the jurisdiction of the Tribunal in The Hague. The judgment could have a substantial impact on the outcome of the trials of Radoslav Brdjanin and Momcilo Krajisnik, the appellate proceedings in the case of Milomir Stakic, and the decision of the Trial Chamber on the motion filed by the amici curiae to remove the genocide charge against Slobodan Milosevic regarding Bosnia and Herzegovina.