Home
GENERAL KRSTIC TO SERVE HIS SENTENCE IN GREAT BRITAIN
Former VRS Drina Corps commander, Radislav Krstic, will be the first person convicted by the Tribunal to serve his sentence in Great Britain.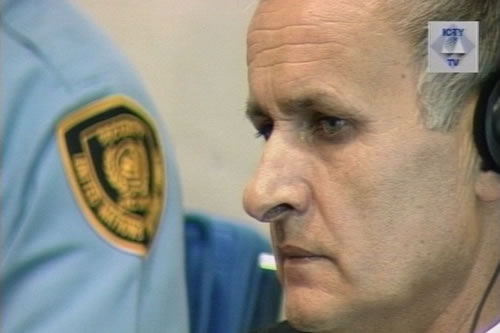 Radislav Krstic in the courtroom
General Radislav Krstic, former commander of the VRS Drina Corps, will serve the remainder of his 35-year sentence in Great Britain--this according to a decision by ICTY President Theodor Meron made public today. Krstic was sentenced to 35 years in an Appeals Chamber judgment this April.
General Krstic is the first person convicted by the International Criminal Tribunal for the former Yugoslavia to serve his sentence in Great Britain, a country that did not put its prisons at the Tribunal's disposal until April, after an agreement was reached with the UN.
Krstic has spent almost six years in the UN Detention Unit in Scheveningen. SFOR units arrested him on 2 December 1998, and he was transferred to The Hague the next day. At his initial appearance, Krstic pleaded not guilty. Eighteen months later, the first trial for the Srebrenica crimes began at the Tribunal. In the summer of 1995, over 7,000 Muslim men from the enclave nominally protected by the UN were killed, and about 30,000 women and children were deported.
The 98-day trial ended on 29 June 2001. The Trial Chamber rendered its judgment in august 2001. It will go down in Tribunal history as the first judgment for genocide. Krstic was found guilty of genocide in Srebrenica and sentenced to 46 years in prison. Both the defense and the prosecution appealed the judgment two weeks later.
In a judgment reached by a majority of judges (4 to 1) on 19 April 2004, the Appeals Chamber confirmed the finding that genocide had been committed in Srebrenica, but it revised the sentence imposed on Krstic by the Trial Chamber. The reason given was that General Krstic participated in the Srebrenica genocide "as an aider and abettor, not as the chief perpetrator," and the Appeals Chamber thus reduced his sentence from 46 to 35 years in prison.
Convicted people get credit for the time they serve in the Detention Unit, which in Krstic's case amounts to six years. According to the ICTY president's decision, General Krstic will serve his remaining 29 years in a prison in Great Britain.