Home
RESTRICTIONS ON SESELJ'S COMMUNICATION PRIVILEGES EXTENDED
The restrictions, first introduced last December, will be extended until Serbia's presidential elections on 13 June 2004.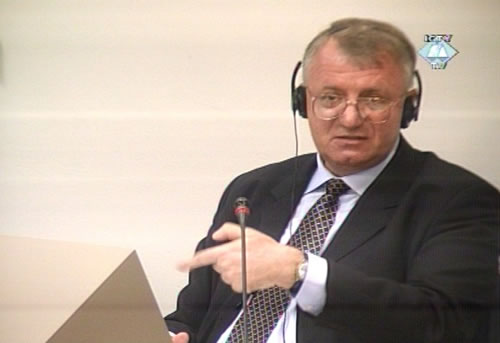 Vojislav Seselj in the courtroom
Vojislav Seselj's communication privileges will be restricted until at least the presidential elections in Serbia, scheduled for 13 June 2004. The Hague-based court announced that decision by the Tribunal's Deputy Registrar, David Tolbert, today.
Restrictions on the communication privileges of Vojislav Seselj and Slobodan Milosevic were first introduced last December, on the eve of presidential elections, when both of them tried to join the election debate by issuing statements from the UN Detention Unit. After two months, Slobodan Milosevic's restrictions were lifted. But Seselj's restrictions were extended every 30 days until today's decision, which remain in force until 13 June 2004.
In this period, all of the accused's contacts with anybody except his legal counsel, diplomatic and consular representatives of Serbia and Montenegro and his immediate family are prohibited. Visits by his family will be monitored under conditions determined by the Commanding Officer of the Detention Unit. Since the text of the decision specifies that the legal counsel, "if applicable," is exempt from the restrictions, it is not clear at this time whether the exemption applies to the accused's two present "legal counsel." Seselj is defending himself.
According to today's decision, the Deputy Registrar decided to extend—and even make more severe--Seselj's restrictions because of his "defiant" disposition, and in particular his letter of 15 April 2004 to Tomislav Nikolic, the present leader of the Serb Radicals. In it, he makes serious allegations against judges, prosecutors and Registry officials and encourages Nikolic to distribute the letter to the media. Nikolic did. The accused has thus joined in Serbia's election campaign. According to the Deputy Registrar, this is a "serious abuse" of the right afforded to him by previous decisions to communicate in writing.