Home
PROSECUTION AMBIGUOUS TOWARDS VOJVODINA
Trial Chamber orders prosecutors to say whether there was a state of armed conflict in Vojvodina during the time of the alleged crimes in Vojislav Seselj's indictment.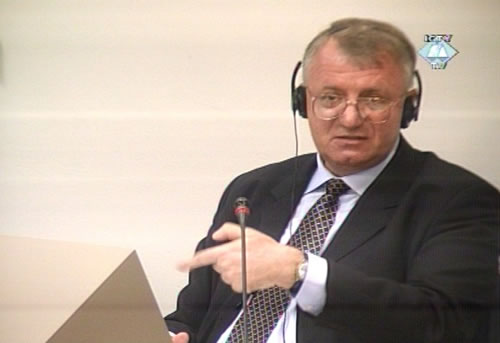 Vojislav Seselj in the courtroom
The Trial Chamber ordered the prosecution to eliminate certain "ambiguities" in the indictment against Vojislav Seselj, at the same time dismissing all other objections in the motion filed by the accused last December.
In the decision made public today in The Hague, the Trial Chamber admitted it had trouble understanding what the accused was objecting to, since his motion "is written in an unclear and clumsy language, with frequent repetitions." The judges were, however, able to discern three issues raised by Seselj: whether the Tribunal is legal and the Security Council had the requisite jurisdiction to establish it; whether the Tribunal has jurisdiction over crimes against humanity allegedly committed in Vojvodina; and a general objection to the form of the indictment.
The Chamber dismissed Seselj's objections to the legality of the Tribunal and the jurisdiction of the Security Council, but it did order prosecutors to eliminate "ambiguities" as to whether there was a state of armed conflict in Vojvodina at the time of the alleged crimes against Croats. The indictment alleges there is link between events in Hrtkovci and the "armed conflict in other parts of the former Yugoslavia." The Chamber stated that this submission was "ambiguous" and called upon the prosecution to state clearly whether there was a state of armed conflict in Vojvodina. If prosecutors say there was, the Chamber wants additional evidence in favor of their submission. If the prosecution fails to do that, the Chamber will – as is stated in its decision made public today – strike all counts of the indictment referring to alleged crimes against humanity committed in Vojvodina in 1992.