Home
THE NUMBER OF COUNTRIES THAT CAN TRY CASES FOR INDICTMENTS ISSUED IN THE HAGUE INCREASES
An amendment to the Rules of Procedure and Evidence envisages the possibility of Tribunal cases being deferred to countries outside of the former Yugoslavia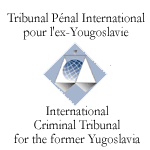 Logo ICTY
The Tribunal will in the future be able to defer its cases to any UN member state with the jurisdiction, willingness and appropriate conditions to try them. Before deferring any of its cases, a Trial Chamber appointed by the Tribunal's President will have to be satisfied that the accused will have a fair trial and that there is no possibility of capital punishment being imposed or carried out. This means that even countries whose legislation allows capital punishment will be eligible for deferral.
This is the gist of an amendment to Rule 11bis of the Rules of Procedure and Evidence adopted last week. It will enter into force on 17 June. Until now, this rule stipulated that Tribunal cases could be deferred either to the country in whose territory the crime in question was committed or to the country where the accused was arrested.
The Trial Chamber can issue the order for the deferral of a case proprio motu or when moved to do so by the prosecution. Before the decision is made, the Tribunal must hear the prosecution, and, if feasible, the accused. Cases involving accused who are still at large, i.e., fugitives from justice, can also be deferred.