Home
THE BRIJUNI TRANSCRIPTS AUTHENTICATED – HARADINAJ REPRIMANDED
Press conference in the Tribunal
OTP gave a copy of the Brijuni transcripts to the prosecutor's office in Zagreb to help verify their authenticity. Ramush Haradinaj was warned he had broken the communication regime in the UN Detention Unit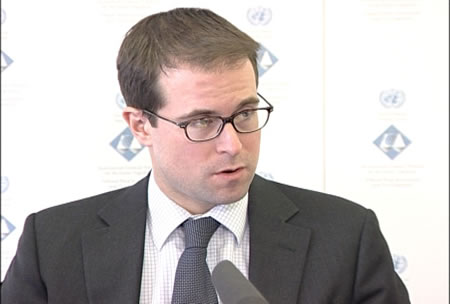 Jim Landale, spokesperson in the Tribunal
OTP gave a copy of the so-called Brijuni transcripts to the Zagreb municipal prosecutor's office, which concluded that they were authentic, confirmed Jean-Daniel Ruch, representative of Carla Del Ponte's office.
"I wish to confirm that we gave a copy of our transcripts to the authorities in Zagreb for the purpose of checking the audio tape they found with the paper version that we filed and that we used in court on various occasions," Ruch said at the press briefing today.
The Zagreb prosecutor stated on Monday that the investigations and the checks of the audio tapes showed that there was no reason to question the authenticity of the transcripts of the meeting that Franjo Tudjman held with the top HV officers on the eve of Operation Storm. Lawyers representing the fugitive general Ante Gotovina tried to challenge the authenticity of the transcripts. Gotovina has been charged with the crimes against Serbian civilians in the course of and after the operation. As the excerpts published in the media show, the transcripts indicate the existence of the intent to expel the Serbian population from Croatia.
"Contrary to what Gotovina's lawyers have been claiming, we have never doubted the authenticity of the transcripts," Ruch added.
ICTY spokesperson Jim Landale confirmed today at the press briefing that the former Kosovo prime minister Ramush Haradinaj had addressed a political meeting of his party by telephone from the Detention unit. "Haradinaj said he was not aware that he had violated the Rules. He had promised not to repeat the offence. He had been warned that any repetition of the offence could lead to a withdrawal of some of his communications' privileges," Landale said.
Slobodan Milosevic and Vojislav Seselj had committed similar offences in the past, which had resulted in restrictions to their communications privileges.