Home
TWO-MONTH BAN ON COMMUNICATION FOR VOJISLAV SESELJ
In a telephone conversation, the accused revealed the identity of a witness who has been protected on the basis of orders issued by several trial chambers, as he is expected to testify in several trials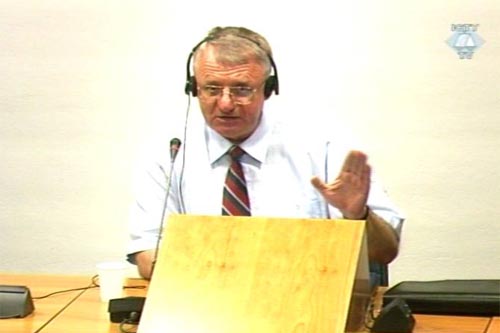 Vojislav Seselj during the status conference
Because he revealed the identity of a protected witness, Vojislav Seselj was slapped with a two-month ban on communication as he is awaiting trial in the UN Detention unit. The only exceptions are his legal counsel and diplomatic and consular staff. The Deputy Registrar rendered the decision on 23 June and it was made public today, after the Chamber decided to unseal it.
The decision states that in a telephone conversation on 18 June 2005, Seselj revealed the identity of a person protected on the basis of orders issued by several trial chambers. This means that the protected witness is planned to testify at several trials, including that of Seselj. After the prosecution was notified of this incident, it "expressed great concern for the safety of the witness," says Deputy Registrar in his decision. The prosecution is likewise concerned because of the attempt by the accused to tamper with witnesses using the communication privileges accorded to him in the Detention Unit.
The decision notes that Seselj has abused the communication privileges on several other occasions, and that the most recent case may be tantamount to contempt of court. According to the Tribunal's rules, this offence is punishable by up to seven years in prison and a fine of up to 100,000 Euros.
Slobodan Milosevic put Vojislav Seselj on his list of witnesses to be heard next week, but because of the length of current testimony of General Bozidar Delic, it is not likely Sesselj will take the witness stand before 20 July, when the trial will adjourn due to the summer recess.