Home
DEAD MEN WALKING
Prosecution witness at the Vukovar Three trial claims the accused Mrksic and Sljivancanin ordered the murder of the people from the Vukovar hospital and that Radic referred to the wounded people being carried out of the hospital by JNA soldiers as "dead men"; they were still alive at the time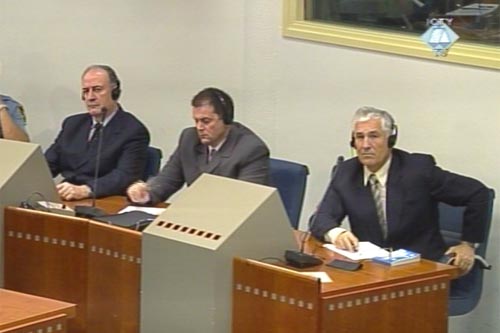 "Vukovar three" in the courtroom
A protected prosecution witness at the Vukovar Three trial claims that Colonel Mile Mrksic and Major Veselin Sljivancanin ordered the murder of the wounded and the sick and other people who were taken out of the Vukovar hospital on 20 November 1991 and executed at Ovcara.
According to witness P016, a JNA officer whose name he doesn't remember told him in November 1992 that Miroslav Radic and Sljivancanin "assigned the officers who made the selection of the people in the hospital". The "chosen ones" were then "killed in the wasteland". The witness later learned, he testified today, that the "wasteland" was located at the Ovcara farm near Vukovar.
The profession of the protected witness was discussed in closed session. The information available to the public indicates that he was some kind of a journalist and that in this capacity he came to Vukovar on 18 November 1991, a day after the JNA troops entered the town. Other possible conclusions are that he wore a camouflage uniform, that he knew some of the JNA officers involved in the Vukovar operation and that he communicated with them, Territorial Defense troops and the paramilitaries freely. It seems he was an insider of sorts.
The witness claims he met Captain Miroslav Radic in the Vukovar hospital. He had known him from before. As "twenty-five year old men" were taken out of the hospital on stretchers, Radic told the witness that those were "all dead men". When the witness said they were alive, Radic allegedly replied that the witness doesn't see very well, repeating that they were all in fact dead.
The witness claims he saw 80 bodies in plastic bags in a park near the hospital. Talking to civilians who came out of the basements that had served them as shelter in the streets around the site, he learned that those were the people who had died in the hospital, but who could not be buried because of the "war-time conditions".
The next day, on 19 November, the protected witness visited Borovo naselje. He claims he saw the paramilitaries "plunder and burn houses". People in rubber cloaks wearing protective masks carried dead bodies out of houses and yards, throwing them into pits, he said. The witness was told that this was done to prevent contagious diseases.
At the gate to a yard, the witness claims he saw "embraced bodies" of a seventy-year-old woman and a man he guesses was her son, who had been trying to protect her. Nearby, there were the bodies of a woman and a three-year-old child with a hole in the forehead. According to the witness, "there were more bodies of children and entire families" in the same street. All of them, he adds, "were killed by bullets, not by shrapnel".
Protected witness P016 will be cross-examined this afternoon by the defense counsel for Mile Mrksic, Veselin Sljivancanin and Miroslav Radic.