Home
DEFENCE: VUKOVAR HOSPITAL WAS LEGITIMATE TARGET
The defense counsel for the Vukovar Three contend that the hospital was a legitimate military target because, they claim, fire was opened on the JNA planes from its roof and members of the police and National Guard Corps were hiding in the hospital. The red cross put on the hospital and in its yard was small and could not be seen from the left bank of the Danube, where the JNA artillery was positioned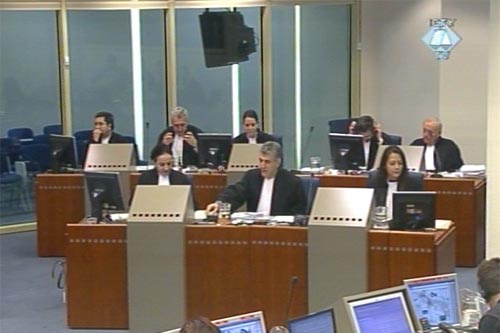 Defense in the 'Vukovar three' case
After three weeks of prosecution case at Ovcara trial, the outline of the defense case of the three JNA officers slowly becomes discernible. They are Mile Mrksic, Veselin Sljivancanin and Miroslav Radic.
The defense counsel place the clashes in the Vukovar theatre in a different framework than the prosecution. They claim the siege and shelling of Vukovar followed the setting up of roadblocks at the entrance into the town in June 1991, the blowing-up of Serbs' property and blockade of the JNA barracks in the summer of 1991.
The protected prosecution witness testifying under the pseudonym P-021 spoke about that in her cross-examination. She worked as a doctor in the Vukovar hospital in 1991. Because she was "an intellectual", as they said, the defense lawyers asked her if "the history of Croatia began in 1991", whether she "favored the secession of Croatia", "who Ustashas were", "who Franjo Tudjman was". The witness refused to answer those and similar questions.
The defense further argues that the Vukovar hospital was a legitimate military target because, they claim, fire was opened on the JNA planes from its roof and members of the police and National Guard Corps. Like the previous witnesses, P-012 replied she had "no knowledge of such actions". She didn't know whether the wounded JNA soldiers "were held hostage in the Vukovar hospital" awaiting the arrival of the international monitors, as the defense claims.
The witness confirmed that the red cross signs in the yard and the roof of the old hospital had not been conspicuous enough. The defense uses this to prove that the hospital was not clearly marked as a medical facility because the sign could not be seen from the left bank of the Danube, where the JNA shells were coming from. Quoting the 1995 statement surgeon Juraj Njavro to the OTP investigators, the defense further claims the sign was removed after a while.
The defense counsel devote part of the cross-examination of the prosecution witnesses to the issue of the appeals sent by the hospital director, Dr. Vesna Bosanac, to the international community. The defense claims the appeals misrepresented the situation in the hospital.
Witness P-021 will complete her testimony tomorrow, when the prosecution should call the next witness.
Mrksic, Sljivancanin and Radic are charged with the murder of at least 264 Croats who were in the hospital when the JNA entered the town on 18 November 1991 because they were wounded or sick or had taken shelter there hoping to be evacuated to other parts of Croatia. They were taken first to the JNA barracks in Vukovar and then to the Ovcara farm, where they were summarily executed.