Home
BAN KI-MOON WANTS KARADZIC AND MLADIC TO FACE JUSTICE
After his visit to the Tribunal where he talked to the judges, prosecutors and representatives of the Registry, the UN General Secretary urged the most responsible to make sure Karadzic and Mladic be tried in the Hague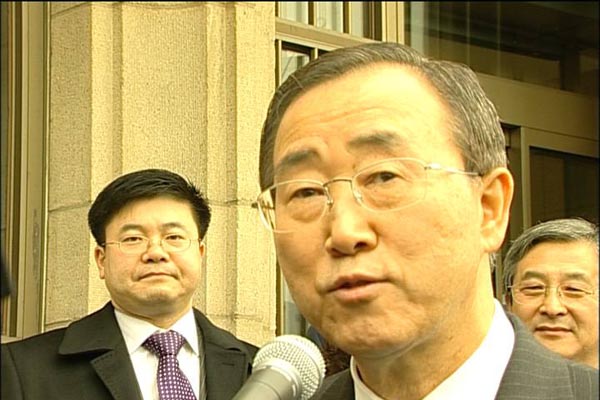 Ban Ki-moon, Secretary general of the UN visiting the Tribunal
Ban Ki-moon, UN Secretary General, visited the Tribunal today and spent half an hour talking to the judges, prosecutors and the representatives of the Registry.
At a short press briefing at the end of his visit, the Secretary General expressed his "deepest appreciation and respect for what the judges and prosecutors have been doing and will be doing to have the rule of law principle firmly established' and to bring "an end to impunity to war criminals".
Asked whether the UN would make it possible for Karadzic and Mladic to be tried if they are arrested after end of Tribunal's mandate, Ban Ki-Moon urged those who are the most responsible to make sure the two accused face trial. He thinks "it is in their interest and in the interest of global peace and stability."
In his talks with President Pocar, the Secretary General said, he had sensed a certain frustration for not being able to complete the ICTY mandate because of non-cooperation and non-availability of the accused. In his opinion, this "is a matter to be closely coordinated and consulted with the members of the Security Council". Ban Ki-moon expressed his hope that the judges and the prosecutors of the Tribunal would be able to complete their task.