Home
DEL PONTE DENIES ALLEGED "DEAL" WITH BELGRADE
The ICTY Office of the Prosecution of the ICTY denies its involvement in 'hiding of the documents' as well as participation in 'an agreement' with Belgrade authorities by which the transcripts of the meetings of Supreme Defense Council remained not disclosed to the public and the International Court of Justice. Serbia was recently charged and tried for genocide in BH before that court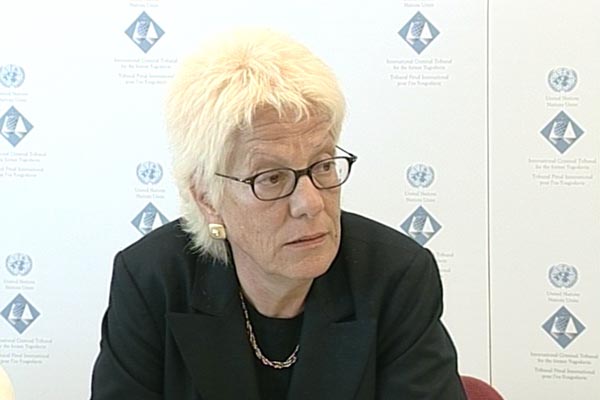 Carla Del Ponte
The Office of the Prosecution of the Tribunal in The Hague rejected today "most vigorously allegations of its involvement in 'concealing documents' from the International Court of Justice or that any 'deal' had been made with the Belgrade authorities
The allegations contested and denied by the OTP today appeared immediately after the International Court of Justice delivered its judgment in the Bosnia Herzegovina Vs. Serbia and Montenegro case. An article published in the
New York Times
last week brought them once again to the attention of the public. There followed a letter Geoffrey Nice addressed to Zagreb daily
Jutarnji List
and Belgrade magazine
Danas
. Nice, who was lead counsel for the prosecution at the Slobodan Milosevic trial, notes in his letter that Carla Del Ponte personally agreed to a 'deal' with the Belgrade authorities to 'protect' the documents of the Supreme Defense Council relating to the role of the FR Yugoslavia – or Serbia – in the wars in Croatia and Bosnia Herzegovina. Those documents remained under seal. The public and the International Court of Justice thus had no access to them.
The OTP never mentions Nice and his accusations in the press release, but 'in the interests of justice and transparency", it points to two important facts.
The release first notes that the responsibility of [the International Court of Justice] is to determine what evidence it will consider and to request documents it deems necessary. This is not, and cannot be the responsibility either of the Tribunal or the OTP. The International Court of Justice 'chose not to request [from Serbia] the documents in question', as indicated in the judgment", the OTP notes.
The OTP goes on to point to that, according to the Tribunal's Rules of Procedure and Evidence, 'only the Judges and not the Prosecutor can decide on the protective measures to keep material from the public'. The Rules allow states to ask for these measures, invoking national security reasons. It is up to the judges – and not the prosecution as a party in the proceedings – to decide whether to approve such measures, having analyzed relevant documents.
In the press release, the Prosecution concludes that 'any allegation that the Office of the Prosecutor has been involved in hiding evidence is entirely false'.