Home
OVCARA MASSACRE TRIAL ENDS
Veselin Sljivancanin's defense counsel calls on the Trial Chamber to acquit the former JNA major. The three defendants address the judges denying they participated in the massacre. They all feel sorry for the victims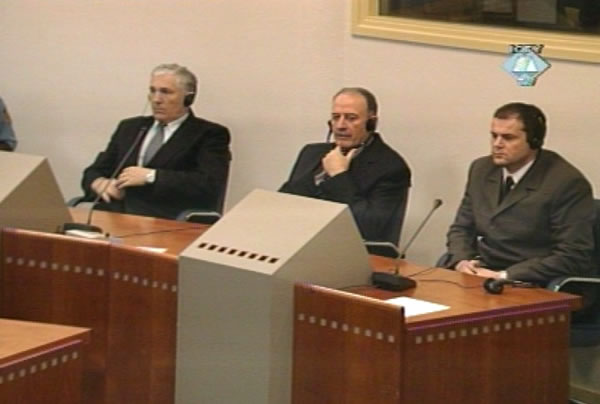 "Vukovar three" in the courtroom
"Veselin Sljivancanin did not take part in the Ovcara crime in any way; he is not responsible on any basis. He is guilty of just one crime, because he believed in one country, one flag and one oath. Because of this belief, you must find him not guilty of the crime at Ovcara.," said Novak Lukic, Veselin Sljivancanin's defense counsel at the end of closing argument at the trial of the Vukovar Three. The three former JNA officers are charged with the murder of 264 persons at the Ovcara farm.
Lukic repeated most of the arguments presented in the course of the defense case. Sljivancanin, the former chief of security in the Guards Brigade, had only one task in the evacuation of the Vukovar hospital, he said. Sljivancanin had to separate the sick and the injured from the Croatian soldiers who, the defense alleged, took shelter in the hospital, and then to facilitate a safe evacuation of the injured and the sick.
In the morning of 20 November 1991, the prisoners of war were first transferred from the Vukovar hospital to the JNA barracks and then to the Ovcara farm. According to the defense counsel, they were in the hands of the military police, which was subordinate to the accused Mile Mrksic, the Guards Brigade commander. Lukic thus pointed the finger squarely at Colonel Mile Mrksic, who had commanded the Vukovar operation.
The defense counsel denied that Major Sljivancanin had been appointed the commander of the Vukovar hospital evacuation. According to the security service rules, the Guards Brigade commander Mile Mrksic was not authorized to delegate to Sljivancanin any tasks that went beyond the purview of the security service. Even if he had taken an illegal decision to that effect, Mrksic would have had to issue a written order. Such an order does not exist, Lukic pointed out. Finally, the defense counsel said that on the day of the evacuation nobody talked to Sljivancanin. All the reports on the activities went to commander Mrksic.
Finally, the defense counsel pointed to the fact that the order for the withdrawal of the military police company from Ovcara had not come through the security officer. Ovcara was in the area of responsibility of the 80th Motorized Brigade, whose commander sent the military police to the hangar and then ordered them to withdraw. The prosecution claimed that the prisoners were then left at the mercy of the local Territorial Defense troops and Seselj's volunteers who executed them at the Grabovo execution site.
When Lukic completed his closing argument, the three former JNA officers: Colonel Mrksic, Major Sljivancanin and Captain Radic, addressed the Trial Chamber. They denied their responsibility for the Ovcara massacre and expressed their regret over the victims.
After both the defense and the prosecution delivered their closing arguments, the judges officially declared the trial of the Vukovar Three closed, announcing that they would deliver the judgment "in the foreseeable future".