Home
PROSECUTOR: MINIMUM OF 30 YEARS FOR MRKSIC AND SLJIVANCANIN
At the appellate hearing in the Ovcara case the prosecution has asked the Appeals Chamber to find Mile Mrksic and Veselin Sljivancanin guilty of crimes against humanity and to be sentenced to at least 30 years in prison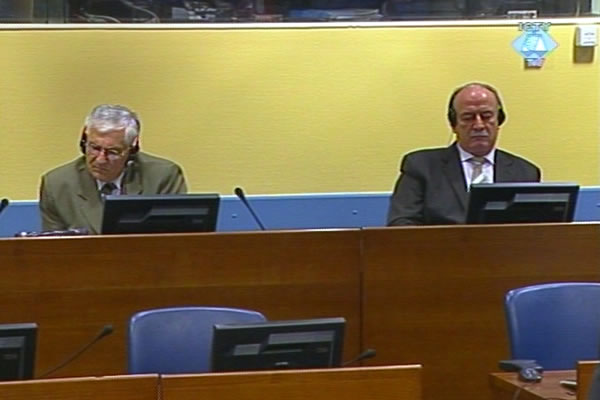 Mile Mrkšić i Veselin Šljivančanin u sudnici Tribunala
As the appellate hearing in the case of Mile Mrksic and Veselin Sljivancanin continued, the prosecution called the Appeals Chamber to quash the findings from the first-instance judgment and to sentence the two accused to at least 30 years in prison. The judgment delivered in September 2007 found Mrksic guilty of aiding and abetting the murder of prisoners of war at the Ovcara farm on 20 November 1991; he was sentenced to 20 years in prison. Sljivancanin got five years for aiding and abetting torture.
In its four grounds for appeal, the prosecution argues that the Trial Chamber erred in law when it found Sljivancanin, former chief of security in the Guards Brigade, not guilty of aiding and abetting murder. 'Withdrawing the military police from Ovcara sentenced the prisoners of war to death and acquitted Sljivancanin', the prosecutor Helen Brady noted. The Trial Chamber in its judgment concluded that Sljivancanin's obligation to protect the prisoners of war stopped when Mile Mrksic, commander of the Guards Brigade, issued the order to the military police company to withdraw from Ovcara.
The Trial Chamber, prosecutor Marwan Dalal argued, erred when it concluded that the Ovcara victims were not civilians but persons 'known or believed to have participated in combat'. The prosecution believes that the term 'civilian' from Article 5 of the ICTY Statute includes 'persons
hors de combat'
; this position was confirmed in the appellate judgment in the Milan Martic case. Martic was sentenced to 35 years for crimes committed in Croatia and Western BH.
In his response to the prosecution, Veselin Sljivancanin's defense counsel noted that persons
hors de combat
could be victims of crime against humanity only if such crimes were committed as part of 'a widespread and systematic attack against civilian population'. Because, as the defense argues, combat in Vukovar officially stopped when the Zagreb agreement was signed on 18 November 1991, Sljivancanin and Mrksic cannot be guilty of crimes against humanity committed in Ovcara two days later.
Mrksic and Sljivancanin addressed the Tribunal in the afternoon. The appeals chamber will issue its judgment in due time.