Home
DEL PONTE WANTS HARSHER SENTENCES AND NO MORE 'CHRISTMAS PRESENTS'
At her last press conference as the chief prosecutor, Carla del Ponte advocates the abandonment of the cross-examination of victims, harsher penalties for the accused and no more 'Christmas presents' as she called the provisional release of the accused. She sees the fact that Karadzic and Mladic are still fugitives from justice as 'a personal disappointment, but not personal failure'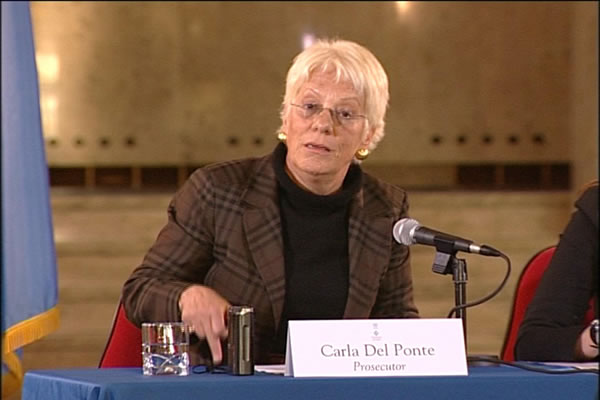 Carla del Ponte during the final press conference before ending her mandate as chief prosecutor
Carla del Ponte leaves The Hague, satisfied with what she achieved in her eight years as the chief prosecutor. She leaves with a sense of 'personal disappointment' over the fact that Ratko Mladic, Radovan Karadzic and the other two fugitives have yet to face justice. She doesn't see this as her personal failure, or the failure of the Office of the Prosecutor and the Tribunal as a whole. She is convinced that they will appear in The Hague sooner or later and face trial for the crimes they are charged with. She hopes that the Security Council will not close down the Tribunal before the remaining fugitives are brought to justice, and that the EU will not sign the agreement with Serbia before Mladic is in The Hague.
Speaking about the lessons she learned in her eight years at the Tribunal at the crowded press conference, Del Ponte noted that she thought it was necessary to abandon the practice of cross-examining the victims by the defense or the accused themselves, because it was tantamount to 're-victimizing the victims'. Del Ponte also considers it necessary to cut down the crime base evidence to get more time to prove the links between the accused and the direct perpetrators of the crimes. The third lesson is the vital importance of witness protection: witnesses are often exposed to pressure and threats by the criminals and their cohorts. It is, in her view, unacceptable.
[IMAGE]3160[/IMAGE]Del Ponte also urged the judges to abandon 'Christmas presents', as she called the judges' practice to provisionally release the accused during the witness recess. No less than twelve accused will enjoy temporary freedom this Christmas. This, Del Ponte said, is a fact that is 'not understandable to me and the victims'.
The sentences imposed by the Tribunal are 'too low', the chief prosecutor said, adding that the crimes tried in The Hague deserve 'much harder penalties'.
At the end of the press conference, Del Ponte addressed the victims of war crimes in the former Yugoslavia. She expressed her regret over the fact that the victims are not parties to the proceedings before the Tribunal, because the Rules of Procedure do not envisage their participation. Her meetings and her relationship with the victims, Del Ponte said, were the 'most important motivation' for her and for the prosecution over the past eight years, giving them 'energy and power to keep on working'.