Home
SREBRENICA MOTHERS VS. NETHERLANDS AND THE UN
Counsel for the Mothers of Srebrenica association and of the Dutch government deliver their arguments on the jurisdiction of the Dutch courts to hear the case brought by the association against the Dutch state and the United Nations. Both the Netherlands and the United Nations invoke their immunity, while Mothers of Srebrenica believe the immunity doesn't relieve them of responsibility for failing to prevent the crime of genocide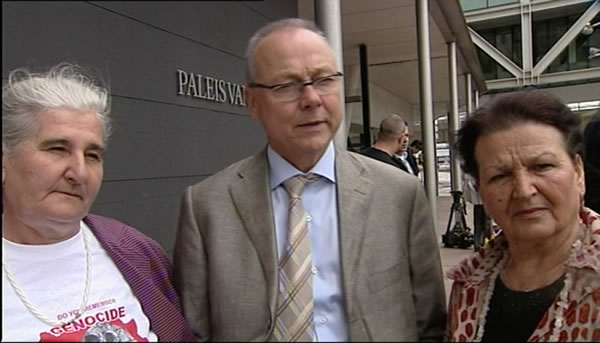 Munira Subasic, Axel Hagedorn and Kada Hotic in front of the Court in The Hague
'I believe that the justice will be on the human side', Munira Subasic, chairwoman of the Mothers of Srebrenica and Zepa Enclaves movement, said in front of the District Court in The Hague after a preliminary hearing on the jurisdiction of a Dutch court to hear the case brought by the association on behalf of the families of people killed in Srebrenica against the Netherlands and the United Nations.
As Subasic said, 8,000 persons in Srebrenica 'were killed before the very eyes of the United Nations who must publicly admit to what they did'. The lawsuit goes on to allege that the members of the UNPROFOR Dutch Battalion failed to prevent genocide and other crimes against humanity – torture, rape and deportation of Bosnian Muslims – committed by the members of the VRS.
The United Nations and the Netherlands invoke the immunity they enjoy pursuant to the international conventions and protocols. Counsel for the Dutch state noted that 'what happened in Srebrenica is tragic' but one should not lose sight of the fact that 'the main culprits for that tragic event are the VRS and Ratko Mladic'.
Dutch legal counsel Houtzagers also reminded the court that the hearing today is not about the merits of the lawsuit. At issue is whether a Dutch court has jurisdiction in this case since the United Nations enjoy immunity in the territory of every one of its member states. The attorney stressed that the principle of immunity was establish specifically for cases like this to make it possible for the world's highest international organization to 'fulfill its task of protecting peace and stability in the world'.
In the opinion of Axel Hagedorn, representing the Mothers of Srebrenica, 'immunity is not an absolute but a relative category'. Failure to prevent the crime of genocide, he said, is the issue of greater significance than the immunity of the United Nations. If the court rules that the United Nations were protected by immunity, the obligation to prevent genocide would become an 'empty case', Hagedorn contends.
The legal counsel representing the Mothers of Srebrenica noted that the United Nations 'should be held responsible for its actions', including the deportation which is, as the counsel put it, euphemistically called 'the evacuation of the population'. 'Their evacuation, assisted by the blue helmets, was forcible,' the lawyer noted.
The Dutch court will deliver its decision on the jurisdiction on 10 July 2008, one day before the 13th anniversary of the fall of Srebrenica.