Home
THE MEANING OF THE ROUND FIGURE FOR OVCARA
In his cross-examination of Emil Cakalic, the accused Seselj said that 'somebody's mind ordered the shooting of 200 Croats', implying it was General Aleksandar Vasiljevic,', which is why those who actually carried out this order spared the lives of 'seven persons' from Ovcara hangar that 'were surplus'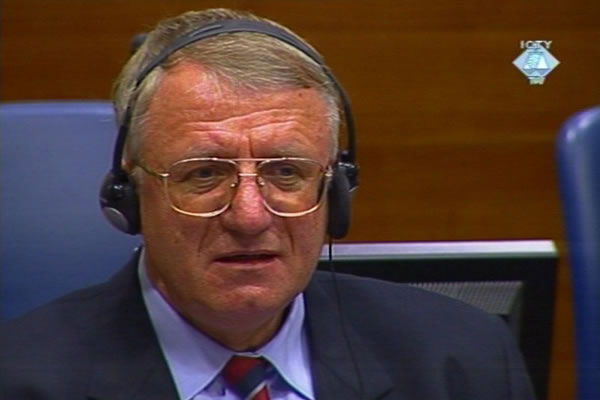 Vojislav Seselj in the courtroom
Ever since the beginning of the crime base evidence on the events in Vukovar in November 1991, Vojislav Seselj has been accusing General Aleksandar Vasiljevic, the then JNA chief of security, of ordering the Ovcara massacre. Today in his cross-examination of Emil Cakalic, one of the Ovcara survivors, Seselj rounded off this theory.
In his statement to the OTP, Cakalic stated that on 20 November 1991, 207 prisoners from the Vukovar hospital were brought to the Ovcara hangar. Seselj asked him if he didn't find it curious that seven persons were selected to survive while two hundred others were executed. The witness couldn't reply, but Seselj believes that the 'round number' of the prisoners who were executed was not random. Seselj first said that 'somebody's mind ordered: shoot 200 Croats' and went on to clarify that he 'knew for a fact that general Vasiljevic ordered the execution of 200 Croats at Ovcara'.
Cakalic agreed with Seselj's argument that it was easy to find people 'blinded by irrational desire for revenge' who would carry out this order and shoot 200 Croat captives. According to Seselj, men like that could have been found easily among the local Territorial Defense members and the volunteer groups. Many of them had close relatives killed or abused by Croats.
Seselj used two documents to try to prove that local Serbs had the motive for revenge. One is a report of the Serbian Council Information Center documenting the crimes against Serbian civilians in Eastern Slavonia before the war, and the other is a letter written in August 1991 by Marin Vidic Bili, Croatian government-appointed commissioner for Vukovar. Vidic was warning the state leadership in Zagreb about the reign of terror in Vukovar instituted by Tomislav Mercep and his followers. The letter goes on to specify that Mercep's men break into apartments and lot them, seize privately owned cars and execute people. This caused the 'overall psychosis of fear among both Serbian and Croatian population'.
At that time, Cakalic worked with Marin Vidic as a sanitation inspector. In response to Seselj's allegations, he first said that he 'didn't see any crimes against Serbs in Vukovar'. However, when Judge Antonetti pressed him, he confirmed that he had heard of them. People were talking about it in the town, he said. 'The whole of Vukovar knew that Serbian houses were being blown up', he said. At the beginning of the cross-examination, Seselj said he accepted entire Cakalic's evidence on the abuse he was subjected in the Ovcara hangar and in the 'death room' in Velepromet in Vukovar. Seselj went on to thank the witness because he was very 'pleased with his replies'.