Home
VIDEO EVIDENCE AT SESELJ TRIAL
The prosecution tendered into evidence today about thirty videos recorded from 1991 to 1995 with the accused and his followers, 'Seselj's men' or 'Chetniks' in leading roles. Seselj didn't object to this, claiming some of them were 'exculpatory'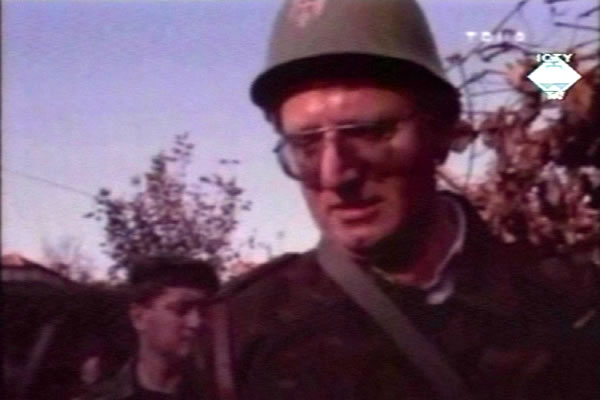 Seselj in the video
About thirty videos made from 1991 to 1995 were shown today at the hearing at the trial of Vojislav Seselj. Footage showing the accused and his followers, 'Seselj's men' or 'Chetniks' in leading roles was tendered into evidence.
Videos show Seselj describing how he gathered the Serbian Radical Party volunteers and sent them to the 'Serbian lands' in Croatia and BH. Seselj explained who and how supplied their uniforms, arms and equipment, clarifying that they fought under the command of the JNA, VRS or SRK. Some of the videos show Seselj in uniform, sometimes carrying arms, as he toured his volunteers in Vukovar, Knin Krajina or Sarajevo suburb of Hadzici.
When the prosecutor showed Seselj's interview where he confirmed that he was the 'commander of all SRS volunteers with complete control over the situation', the accused contested the prosecutor's claim that the video was recorded in the second half of 1991. He went on to say that from 1 September 1991, when the JNA got involved in the conflict in Croatia, the SRS volunteers were under direct command of the JNA.
As for what he said to the authors of British TV series
Death of Yugoslavia
, that his volunteers got weapons and everything else from Milosevic and his police and that the two of them agreed on where in Croatia and BH to send them, Seselj today explained that he said that only to spite Milosevic and to 'foil his plans' in the West, because in 1991 Milosevic and Seselj had a political row over Vance-Owen plan.
Seselj didn't object that the footage the OTP obtained from B92 television and Natasa Kandic's Humanitarian Law Center be tendered into evidence. However, he didn't miss the opportunity to label them 'US spies'. This comment prompted Italian judge Latanzi to caution Seselj to 'refrain from such comments'.
Seselj claims some of the videos shown today are 'exculpatory' and that he would say the same things today, such as for instance that the 'Serbian Krajina will never be Croatian' – he had said that in Glina in 1995. Seselj admitted that 'Serbian Krajina is today occupied by Croatia' but, as he stressed, this was only temporary because it will 'be liberated one day' by him and his followers.
The trial of Vojislav Seselj continues on Tuesday, 25 March 2008.