Home
'FALSE' SESELJ'S MEN IN NEVESINJE
In his statement to the OTP, the Trial Chamber's witness Vojislav Dabic contended that the Red Berets and Seselj's men were responsible for the murder of 76 Muslim civilians captured near Mount Velez on 22 June 1993. Today, Dabic maintained that 'they were not real Seselj's men'. According to Dabic, they were locals 'wearing traditional Serbian caps and the Chetnik insignia'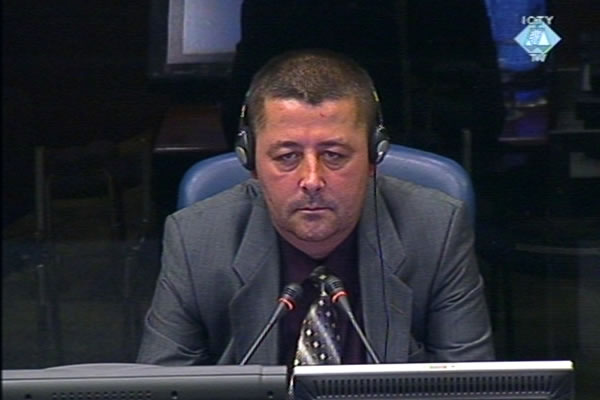 Vojislav Dabic, witness at the Vojislav Seselj trial
The indictment against Radicals leader Vojislav Seselj alleges that on 22 June 1992, Serb troops, including volunteers called Seselj's men, captured 76 Muslim civilians near Mount Velez. The Muslim captives were taken to a primary school in the village of Zijemlje. The men were separated from the women and children and executed in front of the Breza pit. Vojislav Dabic testified about the details of the massacre today at the trial of Vojislav Seselj. In 1992, Dabic joined the 5th Battalion of the VRS Nevesinje Brigade.
The Trial Chamber called Dabic to testify based on a number of statements Dabic gave from 2000 to 2008, first to the prosecution and then to the defense. The summary of Dabic's statement was not read during his evidence. However, the witness's answers to the judges and the prosecution indicate that in his statements the witness spoke of the involvement of Seselj's men in the crimes in Mostar and Nevesinje.
Answering the prosecutor's questions, the witness said that he had learned about the massacre of Muslim civilians after he arrived in the 5th Battalion. Among the detainees, there were women, children and elderly persons, but he didn't know what happened to them, the witness said. Men were killed near the Breza pit, the witness said. The witness was ordered by his superiors to dig up the pit where the bodies were and then he and two other colleagues had to move the 42 bodies to the foot of Mount Velez and bury them there. As he explained, the command received information that the UN representatives had learned about the bodies from the locals and the witness and two other soldiers had to move them from the original grave to 'where they were hard to find'. In his 2000 statement to the OTP, the witness said that the Red Berets and Seselj's men were responsible for the massacre of Muslim civilians. Today, however, the witness changed his evidence, claiming that Seselj's men he spoke about in his statement were 'not real Seselj's men' but locals 'wearing traditional Serbian caps and the Chetnik insignia'.
In his statement to the OTP, the witness talked about a massacre in Gornje Polje near Nevesinje, when 200 persons were killed. As the witness explained today, those people had tried to withdraw towards Mostar but were surrounded and killed in a 'well organized military action'. Members of the 'Karadjordje' unit led by Arsen Grahovac took part in that action. In his statement to the OTP, Dabic linked members of that unit with Seselj's men. Today Dabic was more restrained, saying that 'all those on the front who wore nationalist insignia were called Seselj's men'.
The accused Seselj will cross-examine Dabic tomorrow.