Home
SLJIVANCANIN'S JUDGMENT WILL BE REVIEWED
The Appeals Chamber has partially granted Veselin Sljivancanin's motion for a review of the judgment in which he was found guilty of aiding and abetting murder and sentenced to 17 years in prison. The Chamber considers the testimony of Miodrag Panic, heard in June, a 'new fact' which was not known to the judges when the final judgment was handed down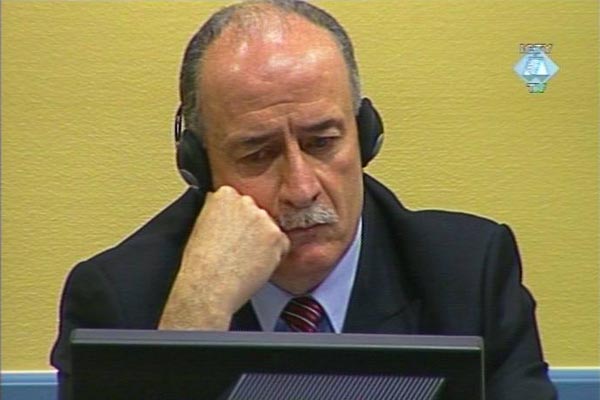 Veselin Šljivančanin u sudnici Tribunala
The Appeals Chamber has partially granted the motion filed by Major Veselin Sljivancanin's defense for a review of the judgment sentencing the former security chief in the JNA Guards Brigade to 17 years in prison for aiding and abetting murder of some 200 prisoners at the Ovcara farm on 20 November 1991.
Last May, the Appeals Chamber quashed the first-instance judgment in which Sljivancanin was acquitted of the charges of aiding and abetting murder, but convicted of aiding and abetting torture and was sentenced to 5 years in prison. The judgment was based on the judges' conclusion that Mile Mrksic, Guards Brigade commander, 'must have told Sljivancanin' that he had withdrawn the military police from the hangar at Ovcara, thereby leaving the prisoners who were detained there without any protection. In their motion for a review, the defense noted that in effect the accused had been given a 'new first-instance judgment' which Sljivancanin should be able to appeal.
Under the Tribunal's rules, a review of a judgment is possible if any new facts come to light which were unknown at the time when the Appeals Chamber handed down its judgment. According to the decision rendered today, the testimony of Miodrag Panic, former chief of staff in the Guards Brigade, contained a new fact. At a hearing in June, he claimed that on 20 November 1991, he was 'in a position to follow the conversation' in Negoslavci, at the Guards Brigade command post, but 'did not hear' Mrksic tell Sljivancanin the military police had been withdrawn.
If it turns out to be true, the decision goes on to say, 'the balance of evidence" in this case will be substantially disturbed and the basis for the conclusion in the appellate judgment – that Sljivancanin had the mens rea for aiding and abetting murder – would no longer exist. According to the judges, a review of the judgment is necessary, because the impact of Panic's new fact, if proved, is such that to ignore it would 'lead to a miscarriage of justice'.
The Appeals Chamber has ordered the parties to provide a list of witnesses and evidence they intend to call at the review hearing, noting that all the evidence the parties intend to call should 'support or cast doubt' on Panic's 'new fact'.
The date for the hearing will be set later.