Home
SLJIVANCANIN'S SENTENCE REDUCED TO 10 YEARS
The Appeals Chamber granted the defense's motion to review the appellate judgment of former JNA major Veselin Sljivancanin. The Appeals Chamber vacated his conviction for aiding and abetting the murder of prisoners of war at the Ovcara farm, quashed the sentence of 17 years in prison and imposed the sentence of ten years' imprisonment for aiding and abetting torture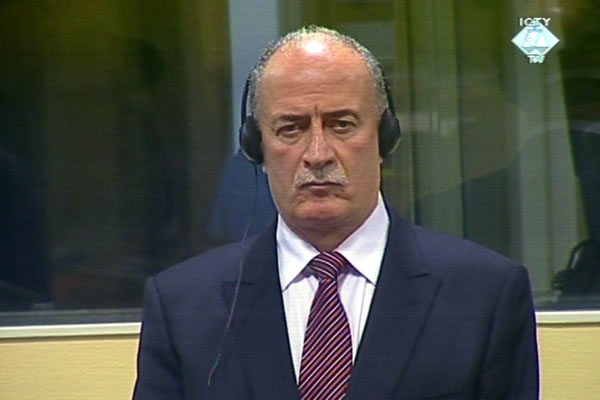 Veselin Sljivancanin in the courtroom
In the first review proceedings before the Tribunal in The Hague, the Appeals Chamber quashed its own judgment of former JNA major Veselin Sljivancanin. The Appeals Chamber initially found Sljivancanin guilty of aiding and abetting the murder of more than 190 prisoners of war at the Ovcara farm on 20 November 1991. Sljivancanin's sentence to 17 years was also quashed and a new sentence of ten years in prison was imposed, for aiding and abetting torture.
The Trial Chamber found Sljivancanin guilty of aiding and abetting the torture of prisoners of war and sentenced him to five years. The Appeals Chamber noted that 'the abuse of prisoners was an extremely serious crime' and found the Trial Chamber's sentence was 'inadequate'. The judges therefore decided to impose a stiffer sentence, of 10 years in prison.
The Appeals Chamber convicted Sljivancanin of aiding and abetting murder after the judges concluded that the Guards Brigade commander Mile Mrksic 'must have told his security officer he had withdrawn the military police from the hangar in Ovcara', thus leaving the prisoners of war in the hands of the local Territorial Defense, who executed them during the night. The defense asked for a review of the judgment based on the evidence of Miodrag Panic, chief of staff in the Guards Brigade. Panic claimed that he 'had an opportunity' to follow the conversation in Negoslavci but 'didn't hear Mrksic tell Sljivancanin about the withdrawal of the military police'.
The Appeals Chamber agreed to accept this evidence as a 'new fact', not known to the judges at the time when the judgment was handed down, and decided to institute the review proceedings. In its judgment, the Appeals Chamber notes that Panic's evidence was 'credible' and that to ignore this new fact would 'result in a miscarriage of justice'.
According to the Appeals Chamber, Panic's evidence was 'credible, consistent and detailed' and Panic didn't try to 'conceal the truth'; the prosecution's claims that Panic wanted to protect himself were 'speculative' as Panic didn't make an effort "to paint himself or others in a favorable light". 'If Panic had been concerned about risk to himself, he would not have contacted Sljivancanin's defense', the Appeals Chamber concluded.
The Italian judge Pocar attached a partially dissenting opinion about the new sentence. Judge Pocar contends that the 'majority in the Appeals Chamber failed to recognize its error and simply confirm the five-year sentence' imposed by the Trial Chamber. Judges Meron and Guney also attached their concurring opinions with legal arguments. The remaining members of the Appeals Chamber are judges Vaz and Liu.
Sljivancanin will be given credit for the six years he has spent in the detention unit. According to current practice which allows the accused to apply for early release after serving two thirds of their sentence, Sljivancanin might be free in eight to nine months.