Home
SESELJ: DISICPLINE BRAMMERTZ; BRAMMERTZ: DON'T LISTEN TO SESELJ
According to the Serbian Radical Party leader, when the prosecution demanded that Seselj return to The Hague, it in fact 'conveyed the position of Croatia and the European Union, who have been Seselj's political opponents for decades'. Seselj has therefore called for 'rigorous disciplinary measures' against the chief prosecutor. The prosecutor replied that the motion to suspend the provisional release was submitted after the accused had said he would not return voluntarily to The Hague. Furthermore, Seselj's recent statements were offensive to the victims and threatened all those who chose to cooperate with the OTP, the prosecutor noted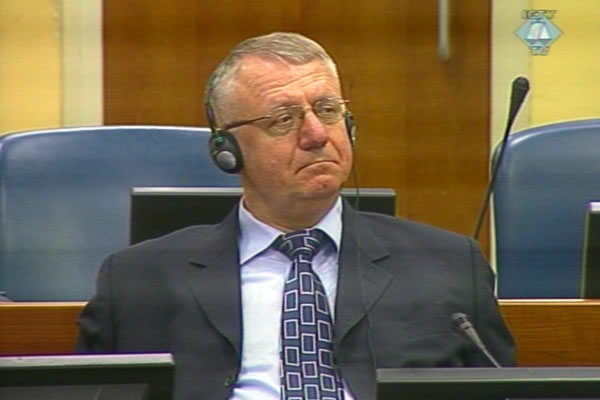 Vojislav Seselj in the courtroom
In a motion filed to the Trial Chamber led by the French judge Antonetti, the accused Vojislav Seselj asked the judges to 'apply rigorous disciplinary measures' against chief prosecutor Serge Brammertz. Seselj wants Brammertz to be sanctioned for 'inappropriate conduct'. According to the Serbian Radical Party leader, the prosecutor acted inappropriately when he demanded that Seselj be brought back to The Hague. On 6 November 2014, Seselj was granted unconditional provisional release 'for humanitarian reasons'.
Seselj thinks that Brammertz in his motion in fact conveyed the 'assessments and positions of parties that have been his political opponents for decades'. When the chief prosecutor presents such positions and assessments, he is acting 'illegally and dubiously', Seselj argues in his motion. and this calls for sanctions. The prosecutor's arguments, the accused notes are in fact a 'wish list' of the Croatian politicians on the eve of the presidential elections in Croatia. The Croatian politicians were against his provisional release, Seselj explains, and adopted a declaration in the Parliament to that effect. 'For reasons known only to him', Brammertz joined them in a bid to have Seselj rearrested.
The European Union is Seselj's other 'old political opponent' the prosecutor has purportedly sided with. The European Parliament has adopted a resolution urging the Tribunal in The Hague to reconsider its decision to provisionally release the Serbian Radical Party leader. While the ink was still fresh on the Croatian declaration and the European Parliament resolution, Brammertz 'acted quickly and filed a motion' seeking the revocation of the provisional release, Seselj notes. According to the accused, the prosecutor should be disciplined for such 'biased behavior'.
In a brief response, the chief prosecutor notes that Seselj's motion should be dismissed because he has failed to show that the prosecution's argument was based 'on anything else but convincing legal assessments'. The prosecution's motion again lists the arguments in support of the original motion to revoke provisional release.
First, as soon as he set foot in Serbia, the accused stated that he wouldn't return to The Hague voluntarily and has said so again and again. Moreover, Seselj threatened the people who cooperate with the OTP while in his public appearances he insulted the victims. Finally, the chief prosecutor stresses that the claims made by the accused cast doubt on the existence of 'humanitarian reasons' for the provisional release. The prosecution's argument is not based on the 'assessments and positions' of Seselj's political opponents, Brammertz says, but on Seselj's own statements. 'Relevant parts' of Seselj's claims are listed in the motion for the return the accused to The Hague. According to the prosecution, the defense's motion for disciplinary measures against Brammertz should be rejected and 'groundless accusations' against the OTP 'shouldn't be tolerated'.