Home
BRAMMERTZ SOUNDS ALARM ABOUT WESTERN BALKANS DEVELOPMENTS
In his regular biannual report to the UN Security Council, the Tribunal's Chief Prosecutor warns that the region is heading in the wrong direction, adding that "irresponsible officials use division, discrimination and hate to secure power". The situation, he said, is reminiscent of the events that led to the war two and a half decades ago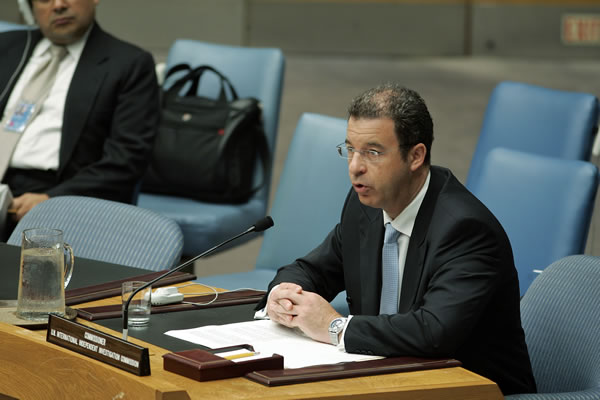 The Tribunal's Chief Prosecutor Serge Brammertz has called on the UN Security Council to urgently address the situation in the states that were part of Yugoslavia, as the region is "heading in the wrong direction".
According to Brammertz, the situation is reminiscent of the one that had led to the war and war crimes 25 or 30 years ago. As he noted, "When irresponsible officials use division, discrimination and hate to secure power, conflict and atrocities can gain a logic of their own. That was true two decades ago when the genocide and ethnic cleansing began, and it remains true today."
As Brammertz said in his regular biannual report to the Security Council, the cooperation the OTP has received from the local judiciaries has gone from bad to worse, but even more alarming is the war crimes denial prevalent in the region and the refusal to accept facts established by the Tribunal. "The message of denial and revisionism is loud and clear. We recognize our victims, but not yours. Your war criminals are our heroes", Brammertz said.
Brammertz noted there was a long list of "unacceptable provocations" that "are an insult to the victims, to this Council and to all who believe in justice", and proceeded to give two examples. The first is a declaration of the Republika Srpska Minister of Education that he would ban textbooks teaching students about the siege of Sarajevo and the Srebrenica genocide, facts that were taught in classrooms around the world.
The second example is "a benefit concert" for the six convicted Herceg Bosna leaders to be held in Mostar by "an ultranationalist singer who has been banned in several countries". Brammertz deliberately decided not to name the singer before the UN Security Council.
Before Brammertz address, the Security Council heard the presidents of the Tribunal and the Mechanism for International Criminal Tribunals, judges Carmel Agius and Theodor Meron. Judge Agius confirmed that the judgments in the cases against Ratko Mladic and Prlic et al. will be delivered in November, as indicated. Judge Agius was particularly scathing about "Serbia's lack of cooperation" as the state has refused to execute the warrants for the arrest and transfer to The Hague for three officials of the Serbian Radical Party, accused of contempt of court because they allegedly intimidated and tried to bribe witnesses in the Vojislav Seselj case.
Finally, the president of the Mechanism, Judge Meron, notified the Security Council that the retrial of Jovica Stanisic and Franko Simatovic will begin on 13 June, and that preparations are underway for the appellate hearings in the cases against Radovan Karadzic and Vojislav Seselj.