Home
THE VUKOVAR THREE TO BE TRIED BEGINNING OF 2005
The definitive date will depend on how fast pre-trial proceedings go (the final version of the indictment has yet to be issued) and on the changes among Tribunal judges expected at the end of this year.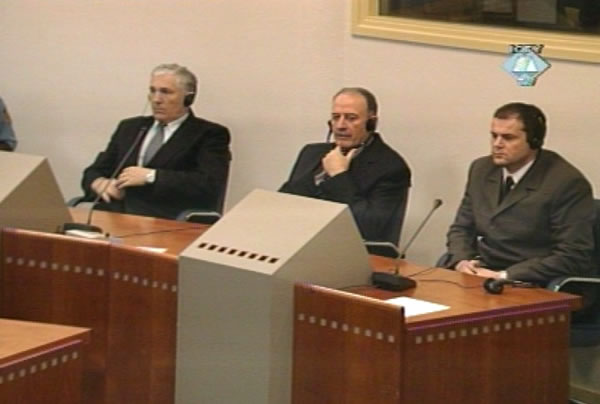 "Vukovar three" in the courtroom
The trial of the former JNA officers accused of crimes in Vukovar has been scheduled to begin in the first few months of 2005, so stated a pre-trial judge at today's status conference. The definitive date will depend on how fast the pre-trial proceedings go and on changes among Tribunal judges, which are expected to take place at the end of this year.
Although the original indictment against Mile Mrksic, Miroslav Radic and Veselin Sljivancanin was confirmed in 1995, it has been amended several times between May 2002 and July 2003—after the accused arrived in the Detention Unit. The latest "consolidated" version of the indictment was confirmed in February, but lawyers for the accused filed motions objecting to it. Judges now have to decide whether the prosecution must make any additional amendments. Prosecutors are charging the former JNA officers with the massacre at the Ovcara farm of more than 200 people who were taken out of the Vukovar Hospital in November 1991.
Prosecutors are now disclosing to the defense any potentially exculpatory material in their files. They expect to call 53 witnesses during the trial, but that number might change. Prosecutors are also closely following the Ovcara trial in Belgrade and have indicated that they might call some of the witnesses testifying at that trial to the Tribunal.