Home
OVCARA TRIAL TO BEGIN IN FIRST HALF OF 2005
Prosecutors will call witnesses who have testified at the Ovcara trial in Belgrade to testify at the trial of JNA officers charged with the same crime before the Tribunal.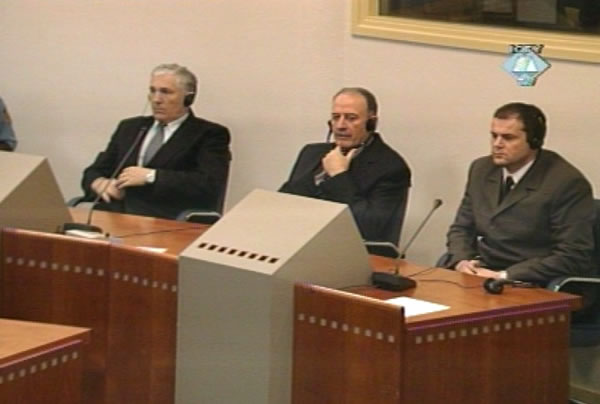 "Vukovar three" in the courtroom
Several witnesses who have testified at the Belgrade trial concerning the Ovcara massacre will be called as prosecution witnesses at the trial of three former JNA officers charged with the same crime before the Tribunal. Joan Richardson--a prosecution trial attorney in the case of Veselin Sljivancanin, Mile Mrksic and Miroslav Radic--indicated that prosecutors have not put together a final list of those witnesses.
All three men have been charged with the death of over 200 people taken from the Vukovar hospital and killed at Ovcara in November 1991, when forces under their command captured the city.
At today's status conference, the defense counsel demanded the prosecution disclose the statements of those witnesses as soon as possible. Parts of their testimony given in Belgrade and seen as exculpatory for the three men indicted by the Hague Tribunal have already been handed over to their defense lawyers.
The trial has been tentatively scheduled to begin in the first half of next year.
The indictment was last amended in late August 2004, but the defense considers that the allegations concerning the evacuation in Vukovar have not been clarified sufficiently. Judges will decide in the days to come whether the indictment must be amended again. The indictment was issued in 1995, but it was amended after the accused arrived in the Tribunal detention unit: Mrksic came in 2002 and Radic and Sljivancanin in 2003.
The accused did not complain about conditions in the Detention Unit or about their health. Sljivancanin did, however, object to the length of pre-trial preparations, stating that for him, "the length of the wait for the trial to begin was a burden."