Home
VUKOVAR THREE CASE TO BE DEFERRED TO CROATIA?
At a status conference today, the prosecution announced its intention to submit an application next week for the deferral of the Vukovar Three case. The prosecutor did not specify which courts would be hearing the case, but the defense indicated it would be Croatian courts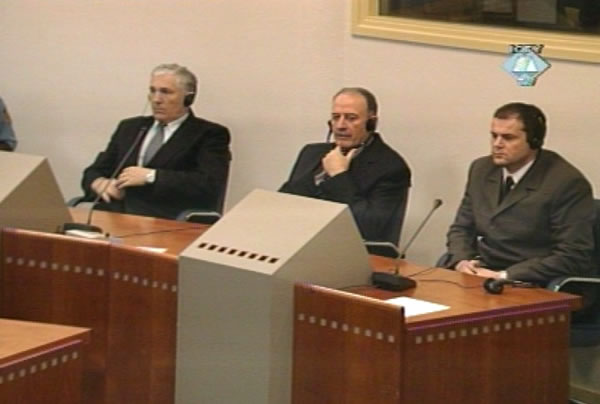 "Vukovar three" in the courtroom
After the pre-trial judge expressed his hope that the trial of three JNA officers accused of the massacre at Ovcara in Vukovar could start "this year", prosecutor Jan Wuben announced that the prosecution would be filing an application next week for the deferral of the case to national courts.
Wuben did not specify which courts – if the judges grant the application – might be hearing the case of Mile Mrksic, Veselin Sljivancanin and Miroslav Radic, but comments made by one of the defense counsel indicate that it would be Croatian courts. Borivoje Borovic, Miroslav Radic's defense counsel, told the judge that last year all three defense teams had applied at the Embassy of the Republic of Croatia to be allowed to go to Vukovar and to familiarize themselves with the locations mentioned in the indictment, but had not received any answer. According to Borovic, "this shows that the cooperation of the Croatian authorities with the defense teams of the accused is not on an appropriate level."
So far, the prosecution has filed applications for the deferral of seven of its cases to national courts: the cases referring to the Medak pocket, Omarska and Keraterm, rapes in Foca, Foca KP Dom penitentiary, murders in Visegrad, the shelling of Dubrovnik in 1991 and the shelling of Sarajevo in 1994 and 1995.