Home
COMRADE MRKSIC IN VUKOVAR HOSPITAL
Protected witness claims that on 20 November 1991 she saw an officer in the Vukovar hospital who was addressed by a doctor escorting him as "Comrade Mrksic". The defense indicates it will prove Colonel Mile Mrksic, who commanded the Vukovar operation conducted by the JNA, was not in the hospital at all that day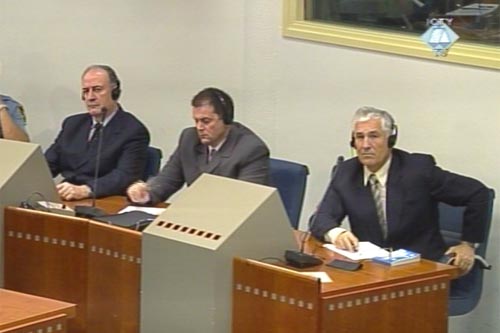 "Vukovar three" in the courtroom
In the morning of 20 November 1991, the protected witness say a JNA officer escorted by a doctor in the hallway of the Vukovar hospital. She claims the doctor was addressing him as "Comrade Mrksic". There were beds with seriously wounded people in the hallway and the doctor went from one to another telling Comrade Mrksic, "This one's ours, this one isn't". According to her, the "ours" were Serbs and the others were Croats.
The witness testifying under pseudonym 013 worked in the kitchen of the Vukovar hospital in 1991. At the trial of Mile Mrksic, Veselin Sljivancanin and Miroslav Radic, she testified that on 20 November 1991, all persons with minor injuries, the sick and civilians had been ordered to leave the hospital building. At the entrance to the hospital, there was a soldier the witness identified as Nikola Dukic. He told the men to go left, to the buses, while the women, children and the elderly were told to go right.
Major Sljivancanin was standing in the hospital yard. The witness claims he was "giving explicit orders to the soldiers, who did as he told them to". She adds that she heard a conversation between Major Sljivancanin and a "man in white" – probably a member of the European Community Monitoring Mission, who was insisting on making a list of the wounded being taken from the hospital. The witness recalls that Sljivancanin refused to do so, saying, "This is my country and I am in command here. You can issue commands in your country".
The witness furthermore claims that on 20 November she heard a conversation between a JNA soldier and "a lady" who asked him what would happen with the people taken from the Vukovar hospital. The soldier replied, according to the witness, that they would "all be killed" and that "it has already been arranged".
Belgrade lawyer Miroslav Vasic, Mile Mrksic's defense counsel, noted in his cross-examination that the witness had failed to mention "Comrade Mrksic" in the statement she had given to OTP investigators in 1995. In the same statement, Vasic added, the witness said the doctor saying, "This one's ours, this one isn't" had been in uniform. In her testimony today, the witness said he had been wearing a white coat. Vasic also indicated the defense will prove Mile Mrksic, commander of the Operational Group South, was not in the Vukovar hospital on 20 November 1991.
After Vasic, the witness will be cross-examined by the defense counsel for Miroslav Radic and Veselin Sljivancanin.