Home
SOLDIERS' ROUNDS IN THE VUKOVAR HOSPITAL
Yet another witness testifies about a soldier or a doctor from the Military Medical Academy who examined the patients in the Vukovar hospital on 20 November 1991, singling out those whom he found were not "really" wounded or sick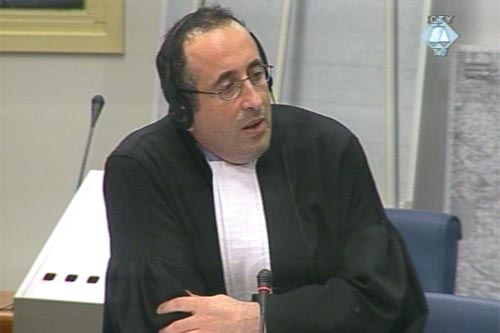 Aga Khan, prosecutor in the 'Vukovar three' case
Despite its previous indications it would tend to complete the case against Mrksic, Radic and Sljivancanin in three months, the prosecution continued presenting evidence about the events that preceded the evacuation of the Vukovar hospital and the massacre in Ovcara. A doctor from the Vukovar hospital testified about that today as the fifth witness to be called by the prosecution. She is a protected witness, testifying under pseudonym P-021.
According to her testimony, a "JNA soldiers" came into the hospital in the morning of 20 November. He examined some of the wounded from the list he carried with him. Because two of her patients, Josip Bradaric and Nikica Holjevac, were on the list, the soldiers asked the doctor to tell him about the nature of their injuries – one of them had splint on his arm and the other's arm was bandaged. He then examined Bradaric and Holjevac himself and sent them to another part of the hospital. Their names are listed in the list of victims exhumed at Ovcara, appended to the indictment.
One of the previous prosecution witnesses, nurse Binazija Kolesar, identified the "JNA soldier" who was examining and selecting the wounded as Dr. Marko Ivezic from the Military Medical Academy in Belgrade.
According to the list she had made a few days before the evacuation, witness P-021 had a total of 25 patients. She saw them for the last time an hour after the "military rounds" she described, after the meeting of the medical personnel with Major Veselin Sljivancanin. The JNA soldiers were taking them out of the hospital, passing by the room where the medical personnel were assembled.
In reply to the prosecutor's questions, the witness admitted there were four healthy persons on her list of patients. When she tried to explain why she had put them on the list, the defense counsel for accused Mrksic intervened, asking for closed session.
The defense counsel for the Vukovar Three claim that after the JNA took Vukovar on 18 November 1991, members of the National Guard Corps took shelter in the hospital together with the civilians. Some of the soldiers pretended they were wounded by putting on splints and bandages.
The testimony of P-021 will continue tomorrow with the cross-examination by the defense counsel for the accused Mrksic, Sljivancanin and Radic.