Home
CHIEF PROSECUTOR "DOES NOT SHARE" THE VIEW OF THE TRIBUNAL'S PRESIDENT
The dispute over an amendment to the Rules of Procedure and Evidence that Carla del Ponte believes limits the independence of the Office of the Prosecution will in all probability have to be resolved by the UN Security Council.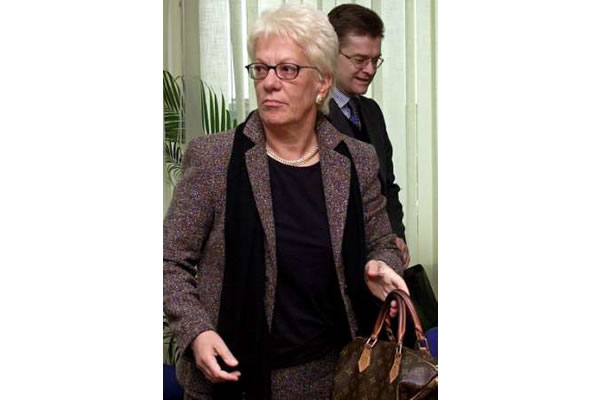 Carla del Ponte, chief prosecutor at the Tribunal
Chief Prosecutor Carla del Ponte received the clarification she requested from Tribunal President Theodor Meron about the amendment to Rule 28 of the Rules of Procedure and Evidence that introduces a new criterion and a new body into the process of confirming indictments. The new rule stipulates that the five-judge Bureau, before forwarding an indictment for confirmation, must verify that it charges the "most senior leaders"; if they decide that the indicted person is not high enough in the political or military chain of command, they return the indictment to the prosecutor.
Since the clarification was sent to the Chief Prosecutor as a "personal letter" from the President, Carla del Ponte's diplomatic advisor Jean Daniel Ruch did not want to disclose its contents at today's press conference. He said only that "the Chief Prosecutor's view and the view of the President were different." Her view regarding the disputed amendment, Ruch said, "was much closer to the view of the Judges of the ICTR." Judges there refused to introduce the same amendment in their Rules of Procedure because they believe they would violate their Statute and limit the independence of the prosecutor.
Since the few remaining investigations the Office of the Prosecutor must complete by the end of the year concern precisely those people in top political and military positions, Carla del Ponte's diplomatic advisor thinks that the new rule "will not have any substantial practical implications as far as future indictments are concerned." However, said Jean Daniel Ruch today, since this is a "question of principle--the independence of the prosecution--which may affect the future of international criminal justice," the Chief Prosecutor "feels that the issue can be resolved only by the Security Council." She intends to bring it up in mid-June when she submits to the Security Council her office's regular report on the implementation of the "exit strategy."