Home
DEL PONTE TO SEEK "CLARIFICATIONS" FROM MERON
The Office of the Prosecutor of the International War Crimes Tribunal in The Hague has not been consulted or notified about amendments to the Rules of Procedure and Evidence which, for the first time in the Tribunal's ten-year existence, diminish the independence of the prosecutor in deciding who to indict.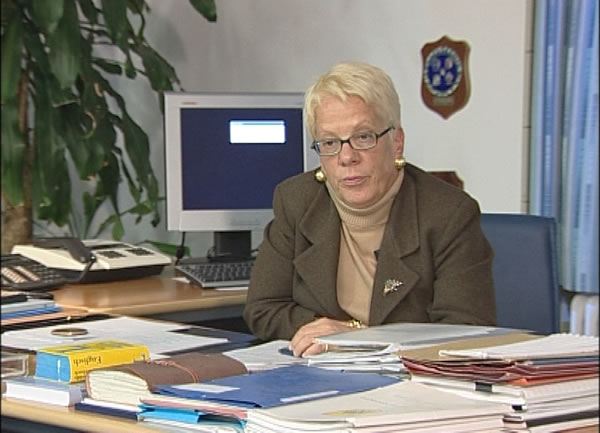 Carla del Ponte, chief prosecutor in the Tribunal
OTP spokesperson Florence Hartmann announced at a press conference today that Chief Prosecutor Carla del Ponte will seek "certain clarifications" from Tribunal President Theodor Meron. This follows amendments to the Rules of Procedure and Evidence adopted last week introducing a new criterion for the confirmation of indictments submitted by the Office of the Prosecutor in The Hague.
According to amended Rule 28, adopted on 6 April and published on 8 April 2004, a five-member Bureau--consisting of the president, vice-president and the three presiding judges of the three Trial Chambers--will in the future assess whether indictments signed by Carla del Ponte deal with the "most senior leaders suspected of being most responsible for crimes within the jurisdiction of the Tribunal." If they find that an accused is not among the "most senior leaders," judges will return the indictment to the prosecutor, regardless of the seriousness of the crimes and the weight of the supporting evidence.
Hartmann announced today thay Del Ponte will ask the Tribunal President to define who merits being included among the "most senior leaders" and to clarify the criteria the five-member Bureau will apply to determine the "seniority" of the people she intends to indict.
According to Tribunal spokesperson Jim Landale, judges adopted the amended rule last week in order to bring the Rules in line with demands put forth in Security Council Resolution 1534, which calls for new indictments to be issued exclusively against the "most senior leaders."
Hartmann, however, notes that the Security Council called upon the Tribunal to do that – meaning judges and prosecutors alike. But the Office of the Prosecutor, she points out, was not consulted or even notified about this important amendment to the Rules.