Home
A REPORT AGAINST SERBIA AND MONTENEGRO
President Theodor Meron formally reports Belgrade's non-cooperation to the Security Council, warning that it jeopardizes the Tribunal's "exit strategy"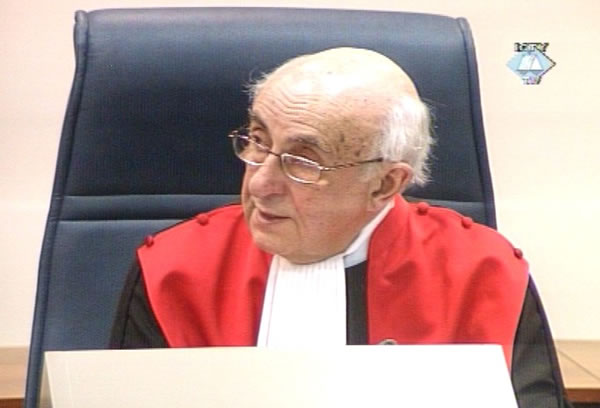 Theodor Meron, president of the Tribunal
Tribunal President Theodor Meron formally reported Serbia and Montenegro's non-cooperation to the UN Security Council today for failing to comply with its obligations to the Hague Tribunal.
Quoting the report submitted to him by Chief Prosecutor Carla del Ponte, President Meron noted that Belgrade's level of cooperation with the Tribunal has been falling steadily since elections last December and that, at the moment, cooperation is "nearly non existent."
In his letter to the President of the Security Council, made public today in The Hague, Judge Meron notes in particular the "failures" of Serbia and Montenegro to execute arrests warrants issued against persons indicted for war crimes, to give the Office of the Prosecutor access to witness and documents and to grant waivers to potential witnesses to testify about matters considered to be state secrets.
President Meron views these as extremely serious failures that could seriously impinge the Tribunal's ability to meet expectations and end its mandate within the time limits set by the Security Council.
Tribunal presidents have so far submitted some 15 reports against the former Federal Republic of Yugoslavia, Croatia and the Republika Srpska to the Security Council. It usually responds by issuing presidential statements reprimanding the recalcitrant states and telling them that it is not nice to act that way, but it never availed itself of the sanctions available to it under Chapter VII.
The latest report against Serbia and Montenegro differs from previous ones mostly in that it contains a clear warning that by its "failure to cooperate," Belgrade authorities are jeopardizing the "completion strategy" of the Tribunal. According to the strategy, all first-instance trials should be completed by the end of 2008. Since the Security Council is very keen to keep to that deadline, its response may be more severe than previous ones.