Home
PROSECUTION UNHAPPY WITH "MLADIC'S PAPERS"
New pages from Ratko Mladic's personnel file do not contain any information about the accused general, says Anton Nikiforov, advisor of Carla del Ponte, announcing there would be a "critical assessment of the SaM cooperation" in the report Chief Prosecutor makes tomorrow. The prosecution is "considering options" after its application to re-open the case against Milosevic was dismissed. The application for the joinder of the cases against Gotovina, Cermak and Markac will be filed soon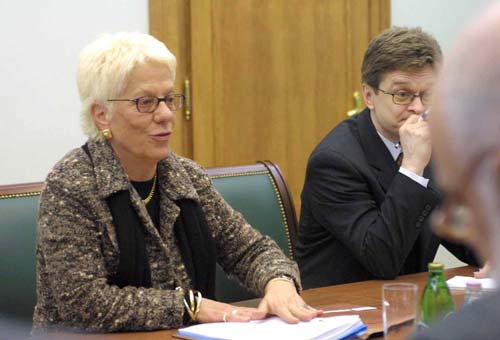 Carla del Ponte and Anton Nikiforov during the visit to Belgrade
The ICTY Office of the Prosecutor is unhappy with the "purported new pages from Ratko Mladic's personnel file" handed over in recent days by the Belgrade authorities, said Anton Nikiforov, special advisor of Carla del Ponte at the press briefing today. He explained that the new pages contained no information about the accused general. Some of the pages handed over by Belgrade are absolutely blank, but are numbered, leading the prosecutors to conclude they are not a forgery. The prosecutors still believed, as Nikiforov said, that "some things were missing from the army personnel file such as recommendations for promotion" of General Mladic, or information about his military career kept in the 30th Personnel Centre. This Centre was charged with keeping track of the JNA or VJ officers seconded to the Republika Srpska Army.
Carla del Ponte's advisor did not want to discuss at the press briefing the report the Chief Prosecutor would make to the UN Security Council tomorrow. He merely said that the report would be "interesting" and that it would contain a "critical assessment of Serbia and Montenegro's cooperation with the prosecution".
After the Trial Chamber dismissed yesterday the motion for "limited re-opening of the prosecution case" in the Slobodan Milosevic case, Nikiforov said today that the prosecution was "considering its options". He noted two of the options: to go to the Appeals Chamber or to use the rebuttal case to present new evidence that prompted it to seek the re-opening of the case. According to Nikiforov, the new evidence is not just about the Scorpions and their video of the execution of six young men from Srebrenica in Trnovo. There are other documents the prosecution obtained after the end of its case.
Finally, Nikiforov announced the prosecution would soon be filing a motion for the joinder of the cases of Ante Gotovina, Ivan Cermak and Mladen Markac, because this was, as he said, "the same crime base and the same case".