Home
LJAJIC DENIES RUMORS ABOUT SURRENDER TALKS WITH MLADIC
After a "working meeting" with Chief Prosecutor Carla del Ponte, president of the SaM National Council for Cooperation with the ICTY, denies rumors that the Serbian authorities are in talks with the fugitive general. Del Ponte will submit her report to the UN Security Council on 15 December 2005; why is it important?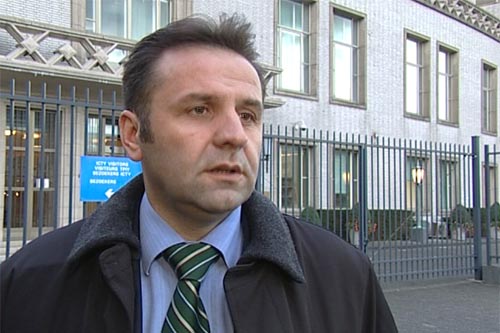 Rasim Ljajic, president of the National council for the cooperation with the Hague Tribunal and the minister for human rights and minority issues of Serbia and Monte Negro
The "working meeting" today between Rasim Ljajic and Carla del Ponte was not devoted to the issue of fugitives. Despite that and despite the fact that the president of the SaM National Council for Cooperation with the ICTY said it clearly at the end of his talks with the chief prosecutor, virtually all journalists wanted to know if the authorities in Serbia were "in talks with Ratko Mladic" and whether he had exchanged any information in that regard with the chief prosecutor.
Cornered, Ljajic was forced to repeat for the umpteenth time that "there are no talks with Mladic", that he and his colleagues in the government of both SaM and Serbia "do not know where he is hiding" and that he was personally convinced the former commander of the Bosnian Serb Army "will sooner be arrested and transferred to the Tribunal, rather than to surrender voluntarily". He added that he had said the same to Carla del Ponte, "drawing her attention to some actions undertaken recently" and giving her "firm assurances that serious and credible checks are underway".
The Office of the Prosecutor, Ljajic said, expects "concrete proof of the readiness of SaM to continue cooperating with the Tribunal" in the month ahead, in order for Del Ponte to be able to submit a favorable report to the UN Security Council on 15 December 2005. The meeting today was primarily devoted to the pending requests of the OTP for documents important for the current or future trials, including document relevant for the Milosevic case. This concerns documents that have not been handed over yet or not in full.
According to Ljajic, the cooperation of SaM with the Tribunal "has never been better". It is necessary, however, to "make concrete steps forwards either when it comes to surrendering the accused or handing over documents" in the next month. Because, as the president of the National Council for Cooperation concludes, "15 December is a very important date for us and this report is important for us because it can determine the pace and course of our negotiations with the EU and we must not do anything to threaten the negations on the Agreement on Stabilization and Association".