Home
JUDGES WHO WILL CLOSE DOWN THE TRIBUNAL
The fourth four-year term of office begins today for the 16 permanent ICTY judges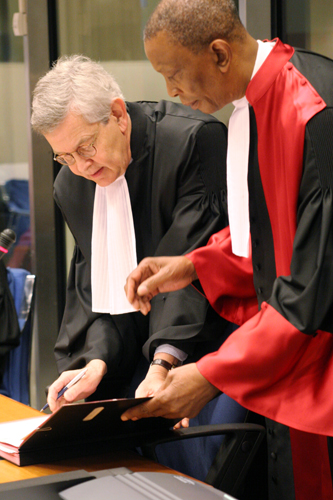 Judge Bakone Moloto taking the oath at the Tribunal
The new term of office of the sixteen permanent ICTY judges began today with a brief swearing-in ceremony for Judge Bakone Moloto from South Africa. Another new face among the permanent judges is Belgian judge Christine Van den Wyngaert, who was sworn in December 2003, as an ad litem judge. She has already sat on benches hearing the Dubrovnik shelling case and the Lapusnik camp case.
The judges term of office will last four years, until 17 November 2009 and they could thus be the last permanent judges at the Tribunal. According to the ICTY "completion strategy", all first instance proceedings should be completed by the end of 2008 and the appellate proceedings by the end of 2010. It is, however, uncertain whether it will be possible to meet those deadlines – one of the reasons is the fact that some of the chief accused are still at large – it remains to be seen whether new judges will be appointed in case the Tribunal's work gets extended by a year or two or whether the current judges will get their term extended.
The permanent judges who will close down the Tribunal are: Theodor Meron (USA), Fausto Pocar (Italy), Patrick Robinson (Jamaica), Carmel Agius (Malta), Liu Daqun (China), Mohamed Shahabuddeen (Guyana), Mehmet Guney (Turkey), Andresia Vaz (Senegal), Alphonsus Orie (Netherlands), Wolfgang Schomburg (Germany), O-gon Kwon (South Korea), Jean-Claude Antonetti (France), Kevin Parker (Australia), Iain Bonomy (UK), Bakone Moloto (South Africa) and Christine Van den Wyngaert (Belgium).
After the swearing-in ceremony, the extraordinary plenary session began. The judges will elect the new president and deputy president of the Tribunal.